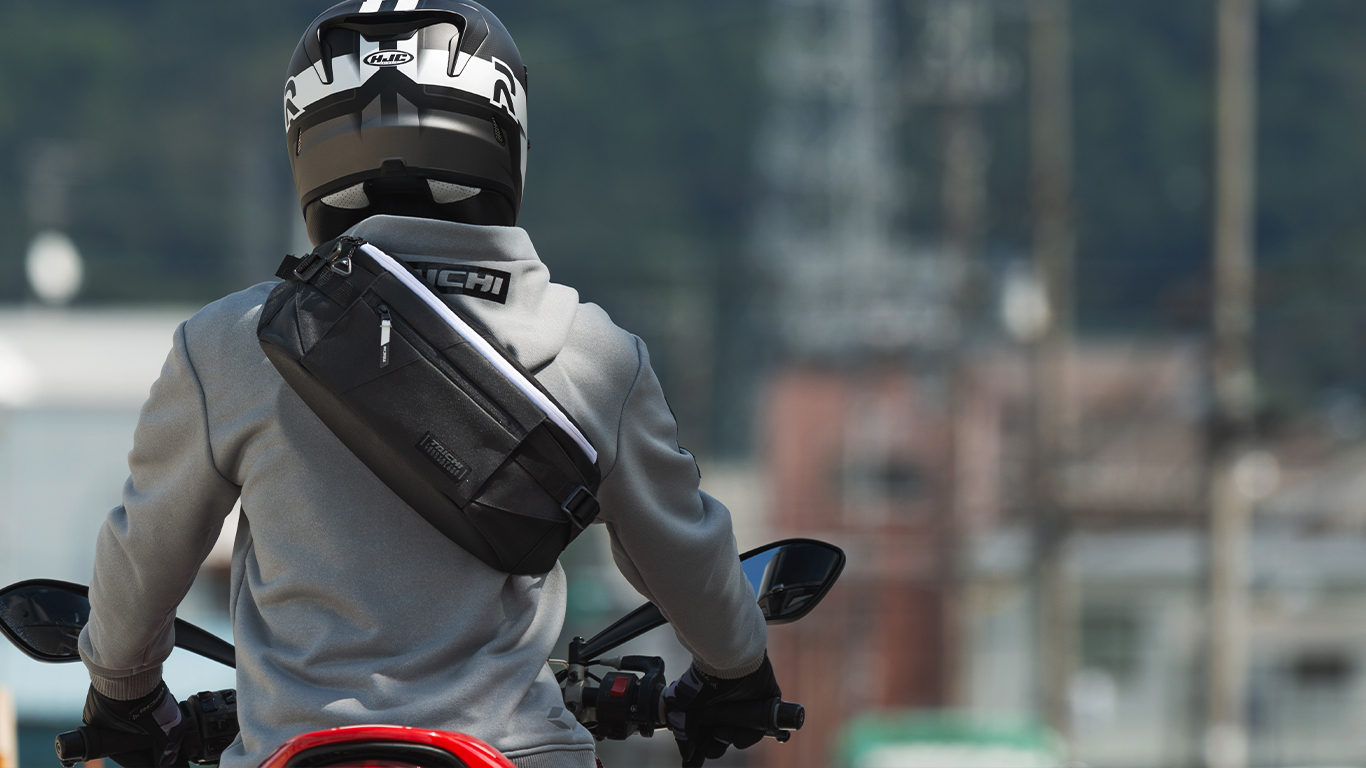 Riding
bag series TAICHI Riding GEAR
COLLECTION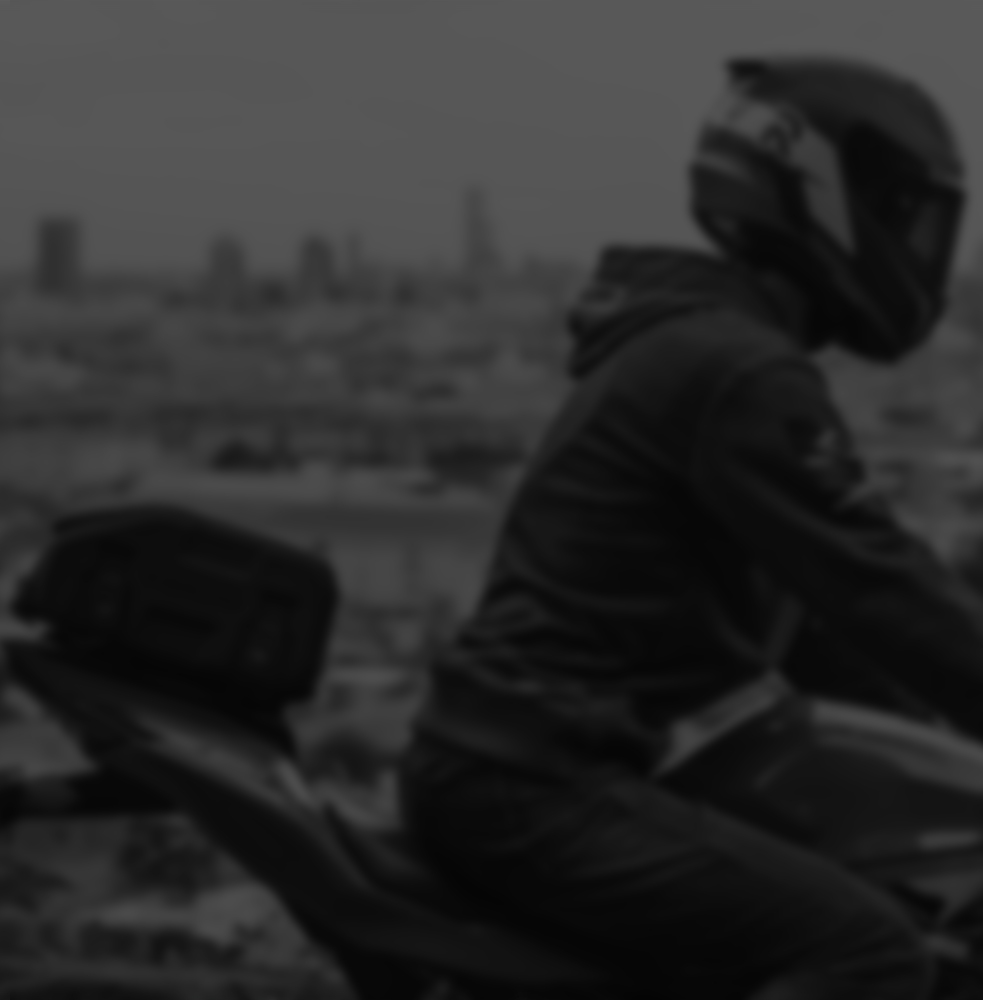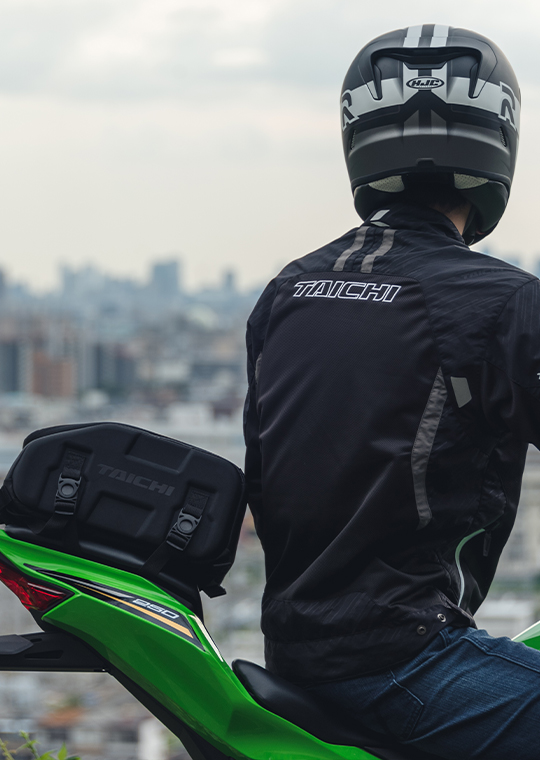 TAICHI Riding bag series Choose by scene
TAICHI's riding bag series can be used in different scenes
The lineup includes large-capacity seat bags and backpacks that are convenient for riding with a lot of luggage, and sling bags that can hold only the minimum number of items. TAICHI's riding bag series can be used not only for touring, but also for commuting and everyday use, with reflectors and waterproof fabrics.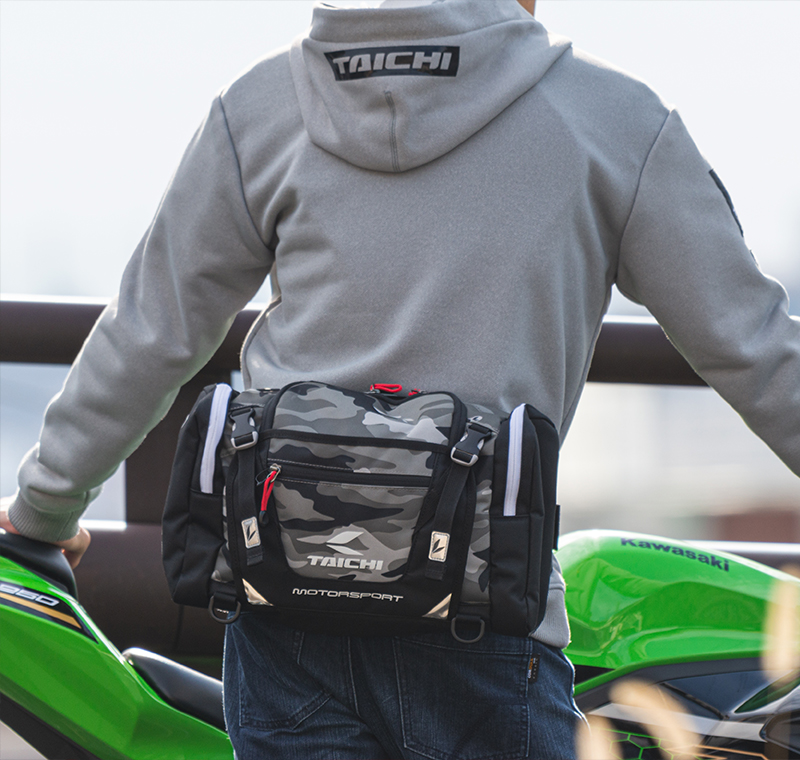 Riding bag series.01
TAICHI Riding bag
The sling bag series is convenient for daily use, such as commuting to work or school, and also for touring.
A backpack with the same storage capacity as a seat bag, and a series of sling bags that can be set at the waist or on the shoulder to suit your riding style.
As well as the basic performance of a bag that can be used on a daily basis, it also has the functions necessary for riding, such as reflectors placed in various places to ensure visibility at night and a model with waterproof pockets.
Riding scene.01 For Daily

The lineup includes bags large enough to hold documents and rainwear, and large-capacity models of 10 liters or more that can hold items for shopping.

Riding scene.02 For Touring

For long tours with overnight stays or touring with a lot of luggage, you can use a bag pack or hip bag with comparable storage capacity to a seat bag.
For a day touring around the neighborhood, you can use a waist bag or body pouch to store valuables and small items that are too thick for the jacket pocket.
backpack SERIES capacity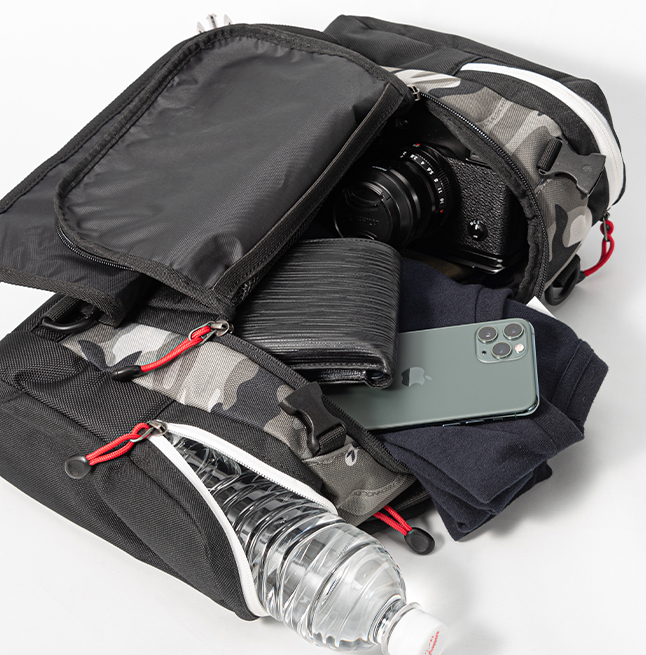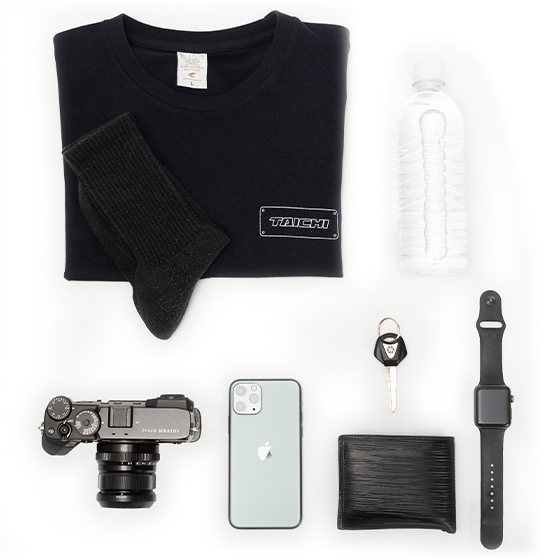 POINT Capacity example of RSB268 HIP BAG (L)
It can hold a change of clothes and luggage necessary for a night stay. It can also carry not only clothes but also a small camera, wallet, cell phone, and 500ml plastic bottle.
backpack SERIES PRODUCT FEATURES
FEATURES POINT.01 Waterproof Function

Bags with a waterproof main compartment and models with a rain cover are ideal for sudden rainy weather.
They will keep your stuffs dry.

FEATURES POINT.02 Reflective Function

Reflectors are equipped in various places to improve visibility in dark places.
Reflective material is also incorporated not only on the panel but also on the handle of the zipper, which can be operated even with gloves on, to ensure safety at night.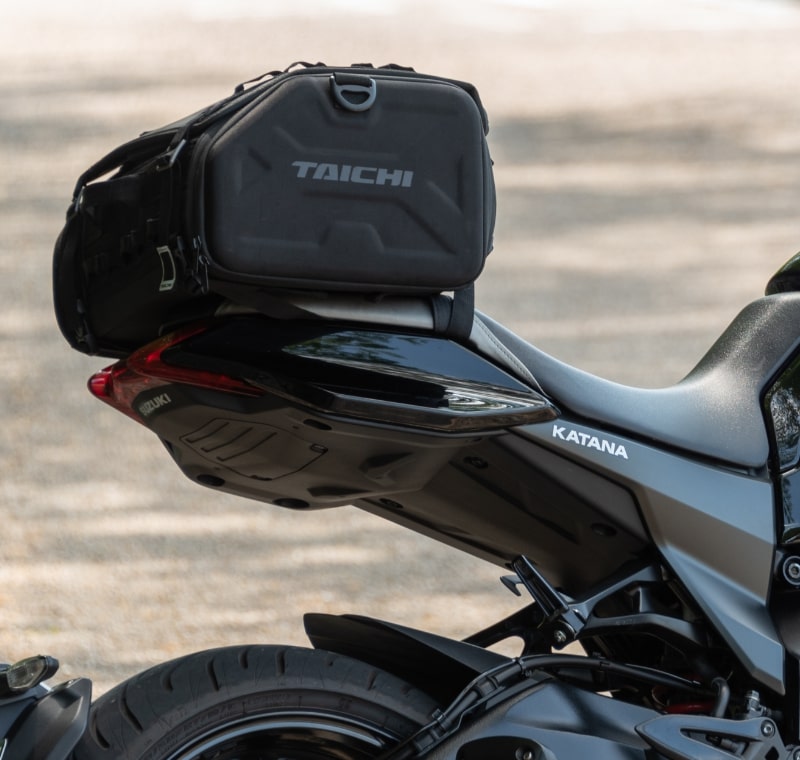 Riding bag series.02
TAICHI Riding bag
The seat bag series of large-capacity are ideal for long touring.
The seat bag, which is available in two sizes to suit different load capacities and purposes, can be installed on the vehicle body to reduce the burden of heavy loads on the rider's body. In addition, the Octaflex belt, which can be installed regardless of the seat shape of the vehicle, ensures smooth handling.
Riding scene.01 For One Day Trip

The compact size of the seat bag, which does not significantly affect the silhouette of the vehicle, is ideal for a day touring. It also has enough space for rainwear, innerwear, valuables, and other personal items that cannot be stored in a waist bag.

Riding scene.02 For Long Touring

The large seat bag is ideal for day touring where you want to enjoy shopping and souvenirs without worrying about the load, or for long touring with overnight stays, and can carry a change of clothes for one or two nights.
Seat bag SERIES capacity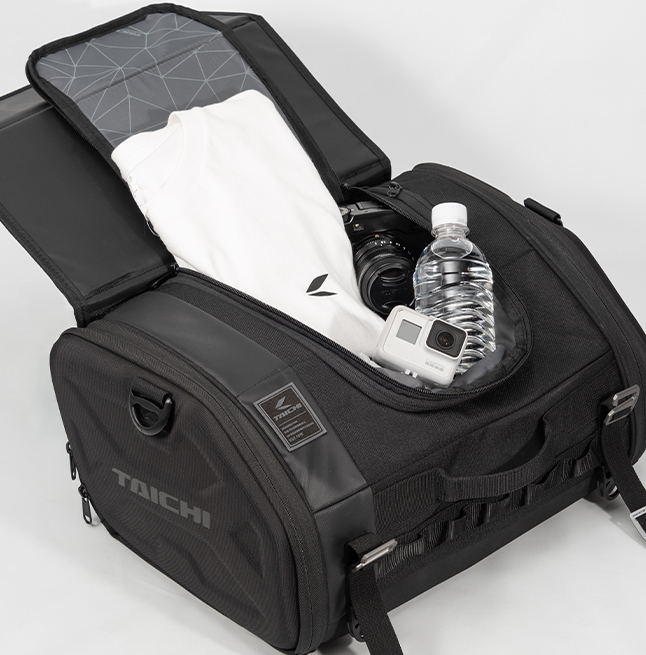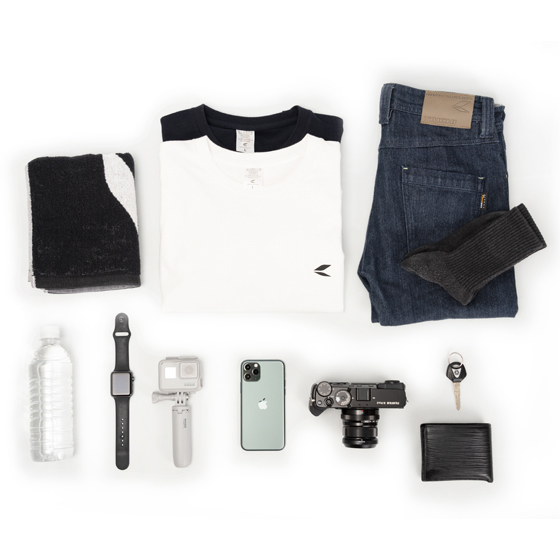 POINT Capacity exaple of RSB313 LARGE SEAT BAG .32
It can hold clothes, camera, tripod, sandals, rainwear, plastic bottles, valuables, tablets, souvenirs, and so on for one or two nights. It also has an expandable feature for storing additional luggage on your touring trip.
Seat bag SERIES PRODUCT FEATURES
FEATURES POINT.01 Hard panels to keep silhouette

The hard panels on both sides keep the silhouette of the bag regardless of the amount of luggage inside. It can be installed without ruining the image of the vehicle body.

FEATURES POINT.02 Removable dividers

The compartment, accessible through a large opening, has a divider with a pocket for storing valuables and other small items. By removing it, compartments can be switched according to the items to be stored.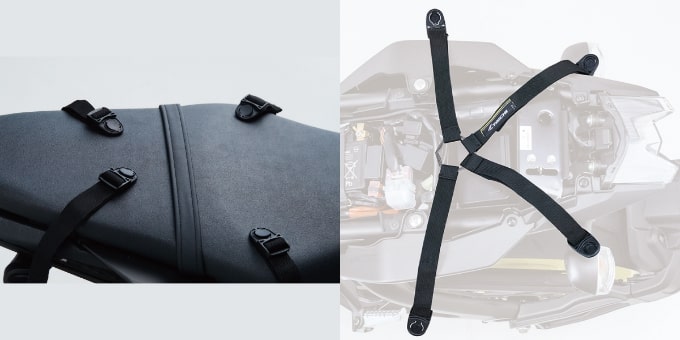 No.RSB315 OCTA Flex belt
RSB312/313 OCTA FLEX BELT
Octaflex belt is used as the fixing belt for attaching the seat bag to the motorcycle body. Simply insert the belt between the car body and the seat and fasten it with the buckle. It is also compatible with both RSB312 and RSB313 for easy replacement.
The RSB316 optional setting harness (sold separately) can be used to secure the bag to the frame or cargo hooks if it cannot be inserted into the seat.
HOW TO USE
01. Attach the Octaflex belt to the car body.

Remove the rear seat and position it so that the Octaflex belt hardware is centered. Then put the seat back so as not to compress the seat's fasteners and wiring.

02. Connect the bag and belt buckle

Connect the four buckles on the belt side and the bag side and fix them to the car body.

03. Adjust the length of the belt

To prevent wrapping and flapping while riding, the excess belt is fixed to the hook and loop fastener to complete the installation.
Installation movie
You can see how to install the Octaflex belt with explanation on TAICHI official YouTube channel (JP voice only).
TAICHI YOUTUBE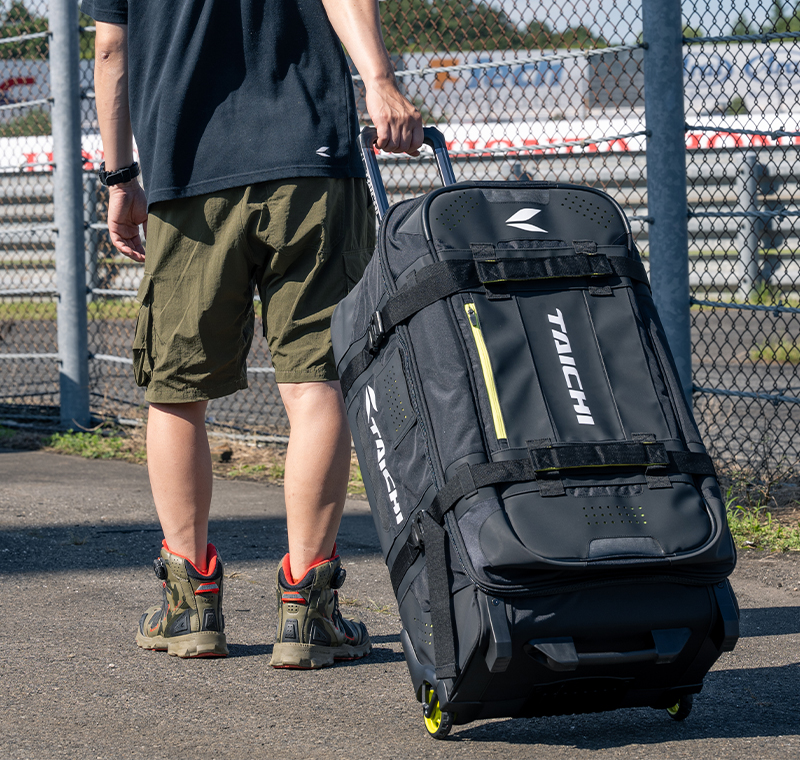 Riding bag series.03
TAICHI Riding bag
Special bags for storing racing items and large capacity gear bags
In addition to gear bags that can hold a complete set of items required for racing, both on-road and off-road, we also have a lineup of storage bags specifically designed for a racing suit. The bags are designed to hold relatively large items and have a large opening for easy access to items.
Usage scene.01 For Carring

RSB266 Wheeled Gear Bag is designed to hold all your racing equipment such as a racing suit, helmet, gloves, and boot. It is equipped with handles and casters to carry all your bulky items at once. It also has removable dividers and many pockets for flexible storage.

Usage scene.02 For racing suits

The bag made exclusively for storing a racing suit is convenient not only for transport but also for storage. With a zipper opening for easy access, a harness to prevent the sleeves from sagging, and hanger holes, suit can be stored and kept easily and without losing their shape.
GEAR BAG SERIES capacity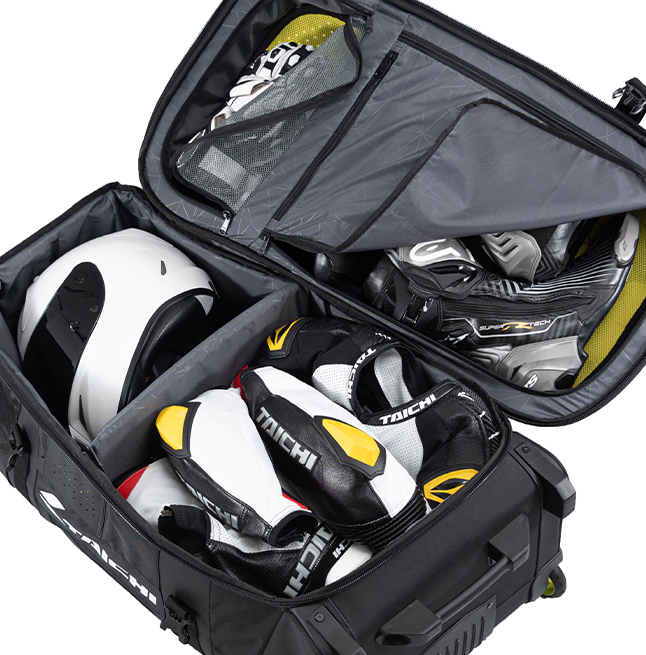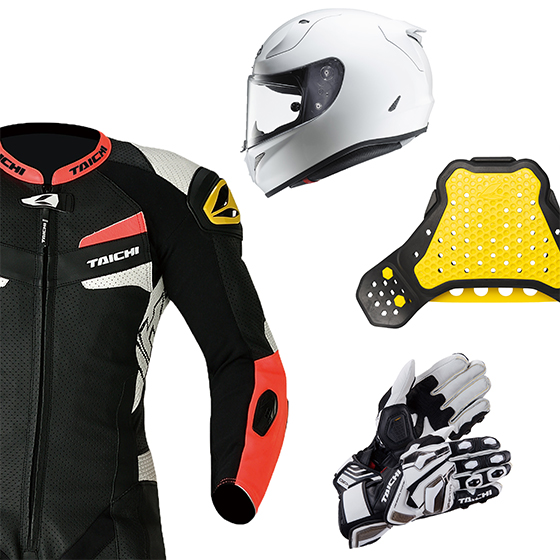 POINT Capacity exaple of RSB266 Wheeled Gear Bag
The main compartment, with a maximum capacity of 120L, can hold a racing suit, protectors, helmet, etc. The lid side has a convenient pocket for storing gloves and boots. There are also numerous pockets for storing small items.
GEAR BAG SERIES PRODUCT FEATURES
FEATURES POINT.01 Convenient for transport.

The bottom of the wheeled gear bag is equipped with casters to move all the heavy racing gear together, and there is a adjustable handle on the top. Other handles are also placed on the sides for convenient lifting when the bag is lying down.

FEATURES POINT.02 Removable dividers

The compartment dividers can be adjusted depending on what you are storing. It also has cushioning so that you can carry your helmet with ease when storing it.

Riding bag series TAICHI Riding GEAR COLLECTION
VIEW MORE