TAICHI SAFETY
SAFETY, SECURITY, AND JOY – ALL FOR RIDERS
OUR PHILOSOPHY
The pursuit of safety and comfort.
At Taichi, we are continuously striving to secure a high degree of safety and comfort for riders, and to provide support for a life with motorcycles that will bring them the joy of riding for years to come.
Taichi goes above and beyond other manufacturers by developing protective gear based on the standards of "CE marking." Designed from the rider's point of view, our products excel in comfort and functionality, made to adapt to the unique challenges in environmental variation motorcyclists face and to provide freedom of motion.
Everything we do is in the pursuit of safety and comfort, in order to make riders' ideal gear a reality. That's what Taichi safety is all about.
*CE marking is a European safety standard designation which aims to reduce fatalities due to traffic accidents.
PURSUIT OF SAFETY
COMFORTABLE AND SAFE RIDING
SUPPORTING THE RIDER'S COMFORTABLE RIDING
Taichi's safety philosophy is all-inclusive safe designs that also provide comfort, functionality, and impact-resistance.

Protectors that provide the highest degree of safety can detract from the original allure of motorcycle riding if they inhibit the riding experience.

All Taichi products aim to maintain a high standard of safety while simultaneously providing superior comfort and functionality.
01

Motorcycle wear designed in the pursuit of comfort

Our design patterns are created around riding positions, so that even motorcycle wear with many inner protector elements brings no sacrifice in comfort.

02

High-visibility reflectors

In order to improve visibility in conditions such as when riding at night, Taichi motorcycle wear incorporates reflectors in various locations throughout their design.

03

Uniquely developed protectors

At Taichi, we've striven to develop our own original protectors with the aim of lowering the fatality rate of traffic accidents. Continually trying out new strategies, such as utilizing materials not used by any other companies and combinations of different materials, makes our protector development notable for its innovation.
FOR SAFETY
WHY DEVELOP PROTECTORS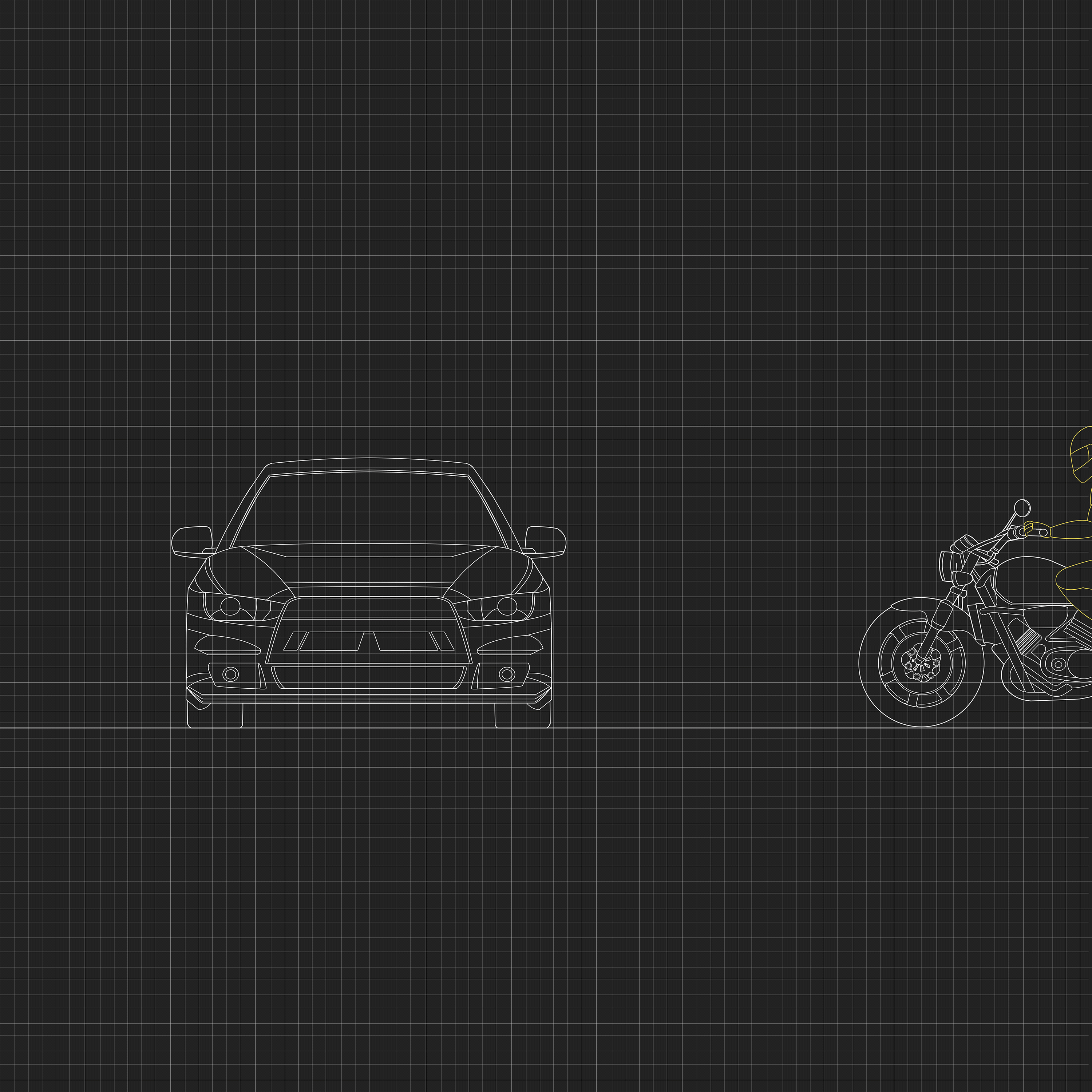 CHEST PROTECTORS – PROTECT YOUR CHEST TO PROTECT YOUR LIFE
Among fatalities caused by traffic accidents, the main area of injury is the head in 41.8% of cases; the next highest cause of death, at 36.5% of fatalities, is injury to the chest and stomach area (based on 2016 statistics). Instances when forceful impacts to the chest may occur include collisions against other vehicles or structures as well as against one's own motorcycle fuel tank or handlebar. Forceful blows to the chest can cause damage to the lungs, heart, and other organs, and in worst case scenarios, lead to death.
Due to the particular road conditions of Japan, which include a high ratio of road intersections, there is a trend toward a large number of fatalities due to collisions with four-wheel vehicles within intersections.
In Japan, the percentage of riders who use chest protectors is still low. So, what can we at Taichi do to make chest protection more common?
Our goal is to reduce the barriers and complexities of wearing chest protectors and create a high standard of safety suited to Japanese statures.
By wearing chest protectors the same way you'd never go riding without a helmet, we can reduce the risk of death in case of an accident, protecting the priceless lives of riders.
That's why we at Taichi are perpetually striving to incorporate new techniques and to develop safe and innovative protectors.
THE NEED FOR
CHEST PROTECTORS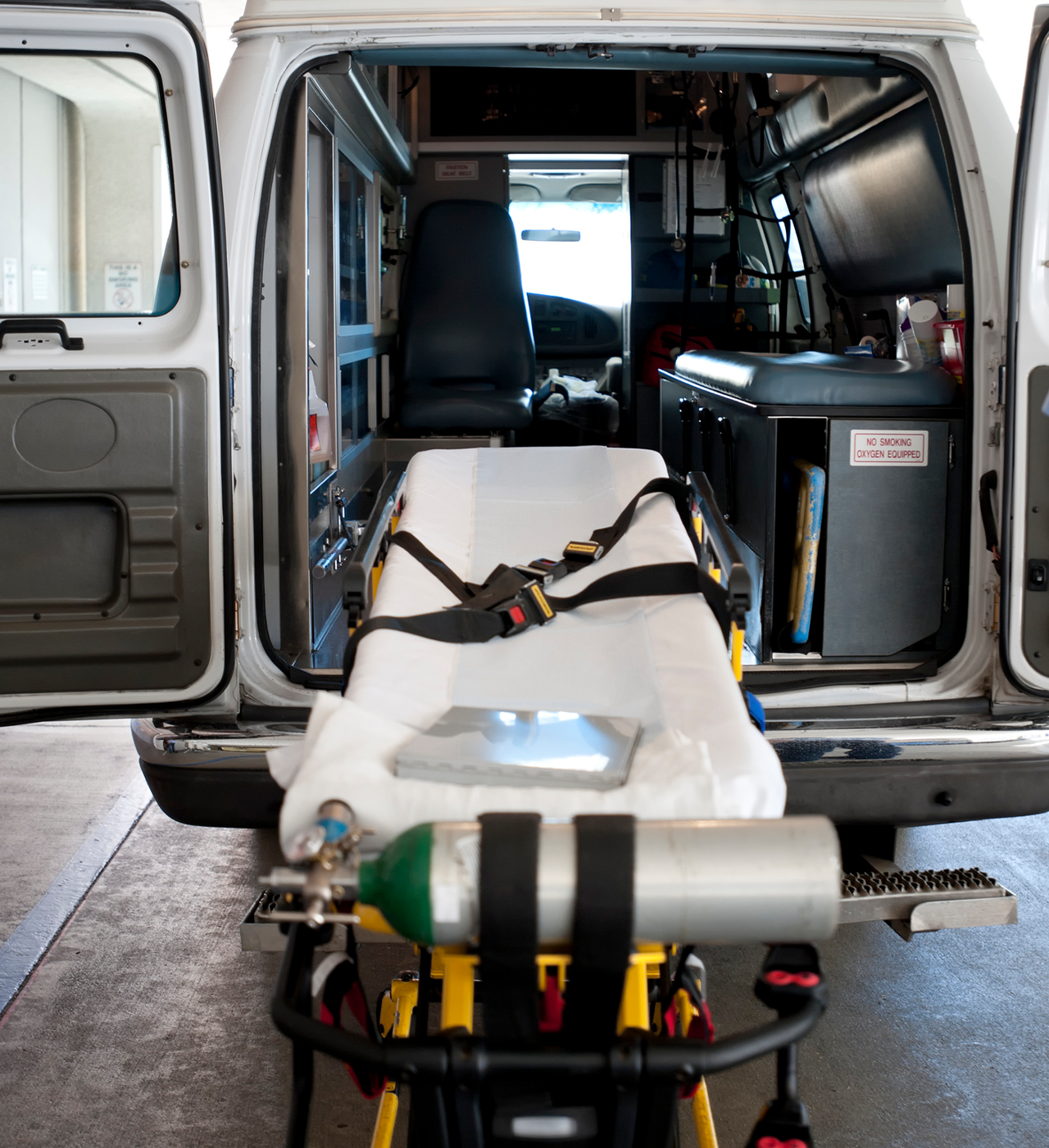 Most lives can be saved by protecting the head and chest.
Motohiro Nishii of the Sakai City Higashi Fire Department has 30 years of experience working as a paramedic, and also serves as director of the JOMS (Japan Outdoor Medical Support) organization. As an expert on emergency medical treatment for motorcycle riders in every venue, from everyday road riding to races, he is a vocal proponent of the necessity of chest protectors.
"When emergency responders arrive on the scene of an accident, the first thing they do is to make sure the victim is conscious, and then check breathing and pulse in addition to visual appearance to assess the condition of the victim's chest. Because some dangerous conditions are difficult to determine solely externally, paramedics perform 11 different observations. Of these 11 criteria checks, six are of the chest area. I hope to spread understanding of how vital the chest area is."
Even in cases where no bones are broken, the concentration of several delicate organs in the chest means a raised risk of death simply by the body's internal balance being disrupted. When heart function is impaired due to pressure on the respiratory tract or blood loss from heart blood vessels, leading to respiratory distress or cardiac arrest, lack of oxygen circulation often results in death before medical intervention can be taken. In many cases, even prompt arrival of an ambulance and efficient diagnosis and treatment procedures can come too late. This is one more reason that wearing a chest protector to prevent damage to the chest area is so important.
ENTHUSAISM AND
TECHNOLOGY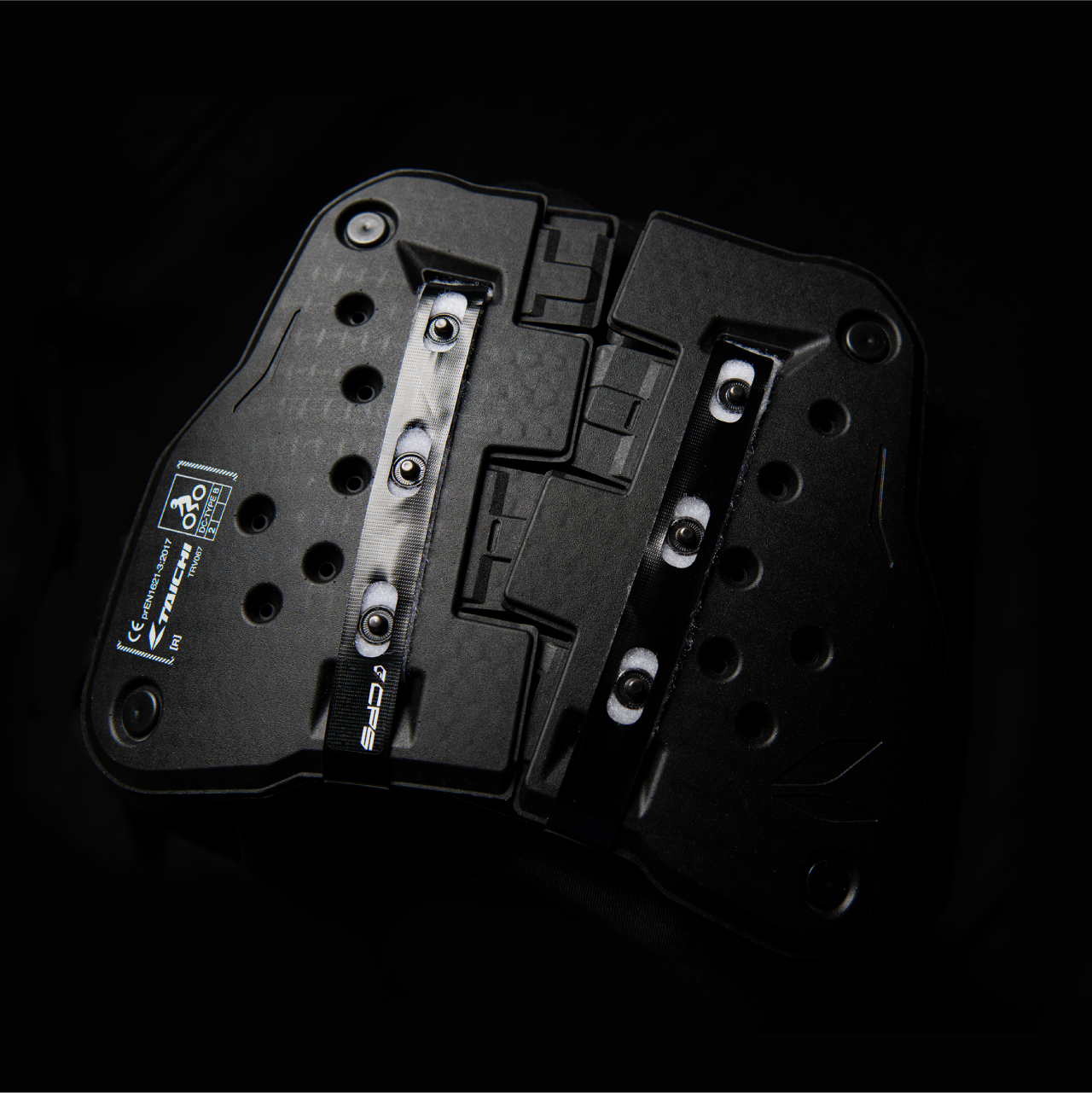 TECCELL chest protectors are superior in both rigidity and lightweight convenience.
In order to prevent chest injuries caused by the multi-angle impacts of an accident, we've pursued research into materials and molding technologies that preserve conformity in rigidity consistently between the center and edges of our protectors. The discovery of our honeycomb core material "TECCELL" and its molding and manufacturing led to our unique Taichi technology. However, not yet satisfied, we continued on to develop and sell protectors with not only superior surface rigidity but also a fragmented design that is convenient to wear.
One of the features of TECCELL is that it is less dense than even water. The material's remarkable lightness makes protectors unobtrusive even during long rides.
This has led to the development of products that combine our enthusiasm for riders' safety with sophisticated technology.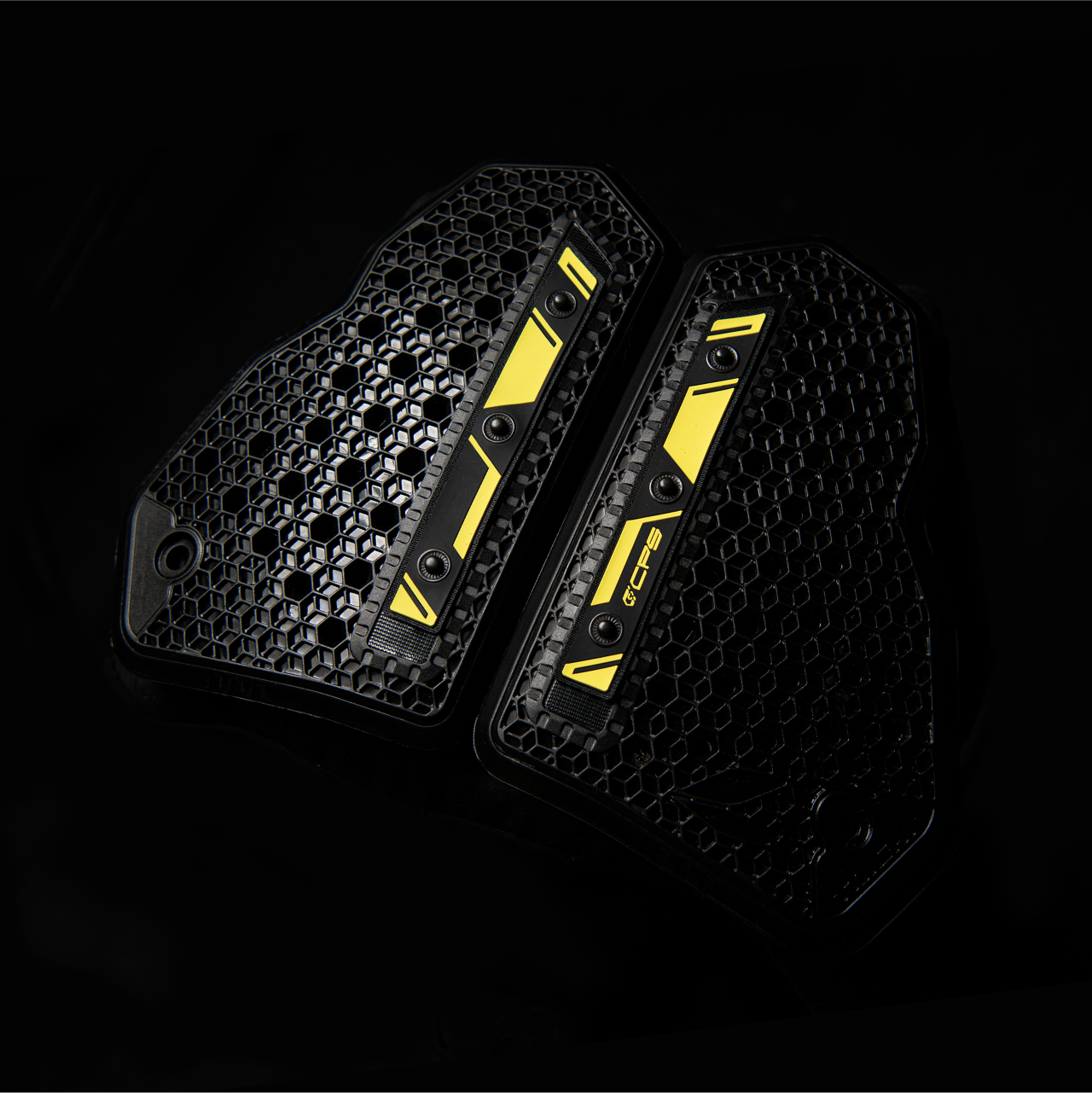 HELINX chest protectors excel in easy wearability and ventilation.
HELINX protectors are made in a separated fashion, so that when wearing a Taichi-brand jacket, protectors can be put on and taken off at the same time, eliminating the extra step of putting on a chest protector individually.
Taichi's original reverse-honeycomb construction effectively distributes impact to the chest area during an accident. By implementing a dual-layer structure of both TPU hard shell and PU foam, the material is resistant to breakage and deformation, earning HELINX protectors results in impact absorption capacity tests that equal those of our TECCELL chest protectors.
This type of construction not only contributes to impact absorption but also reduces surface area in contact with the rider's skin. Additionally, by ensuring plenty of ventilation in the concave sections of the protector's textured design, we have vastly improved ventilation compared to conventional products.
We've channeled our desire to see more and more riders wearing chest protection into the pursuit of comfort seen in HELINX protectors.
HIGH SECURITY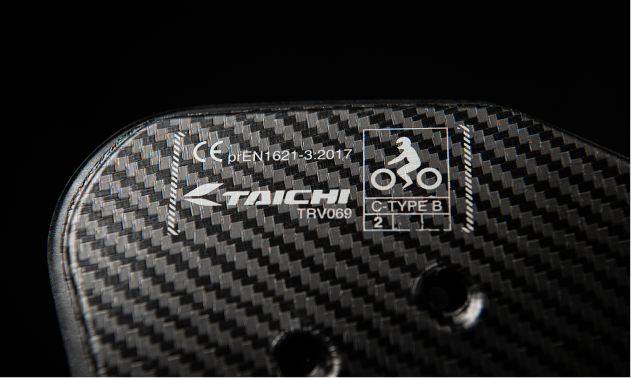 Achieving the world's highest standard of safety
Most Taichi chest protectors fulfill prEN1621-3 Level 2 criteria, a high-grade rigidity standard of CE marking, which is known as one of the world's most stringent safety regulations.

In our quest for even greater penetration resistance, we have developed and released products that are combinations of our "KaRVO shield" viscoelastic material, made by heat-compressing several layers of interwoven film-like material, along with the afore-mentioned TECCELL chest protectors.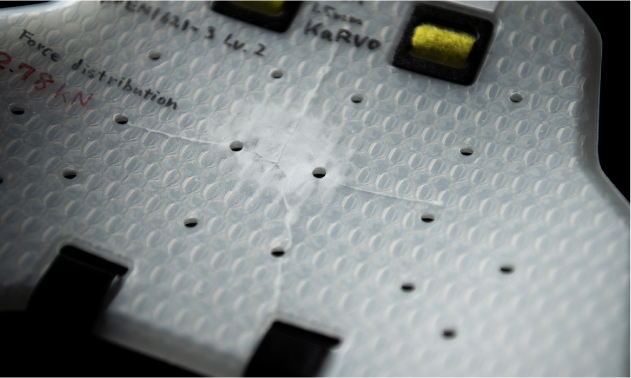 Unique safety test regulations provide even greater security
In addition to inspections to meet the EU's CE marking specifications, we also repeatedly conduct safety tests based on Taichi's own unique regulations. By occasionally performing extra-rigorous safety tests, applying force even greater than that required by CE standards to points on our products, we strive to create products of an even higher level of safety than can be expressed by conventional standards. We also provide reliable security by applying high-quality management to the mass-production process.
A BETTER PROTECTOR FOR EACH RIDER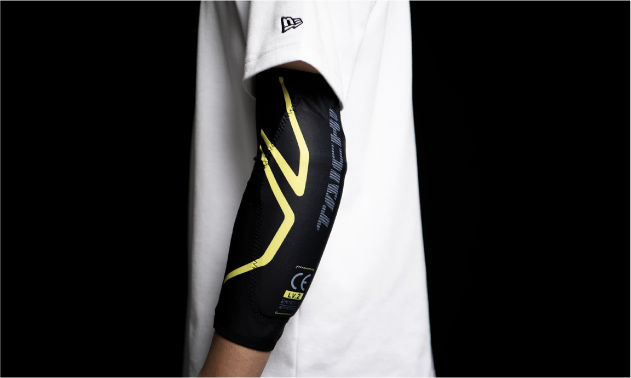 Lightweight comfort that doesn't inhibit riding
Taichi protectors feature excellent freedom of motion, both being lightweight and conforming to your body. Protectors of the past, which relied on thickness to improve protective performance, are no match for our products in terms of ease of wearability and fit.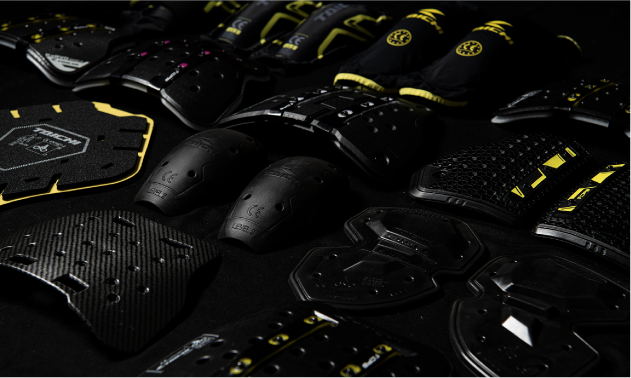 Our diverse line-up of products suits any purpose
We've developed a diverse line-up of products made to meet the needs of all riders, including models of shoulder, elbow, and knee protectors in different shapes and materials, women's models made to fit female chest shapes, our TECCELL Separate chest protectors with separated left and right components, and our CROSSLAY chest protectors which provide even greater penetration resistance.