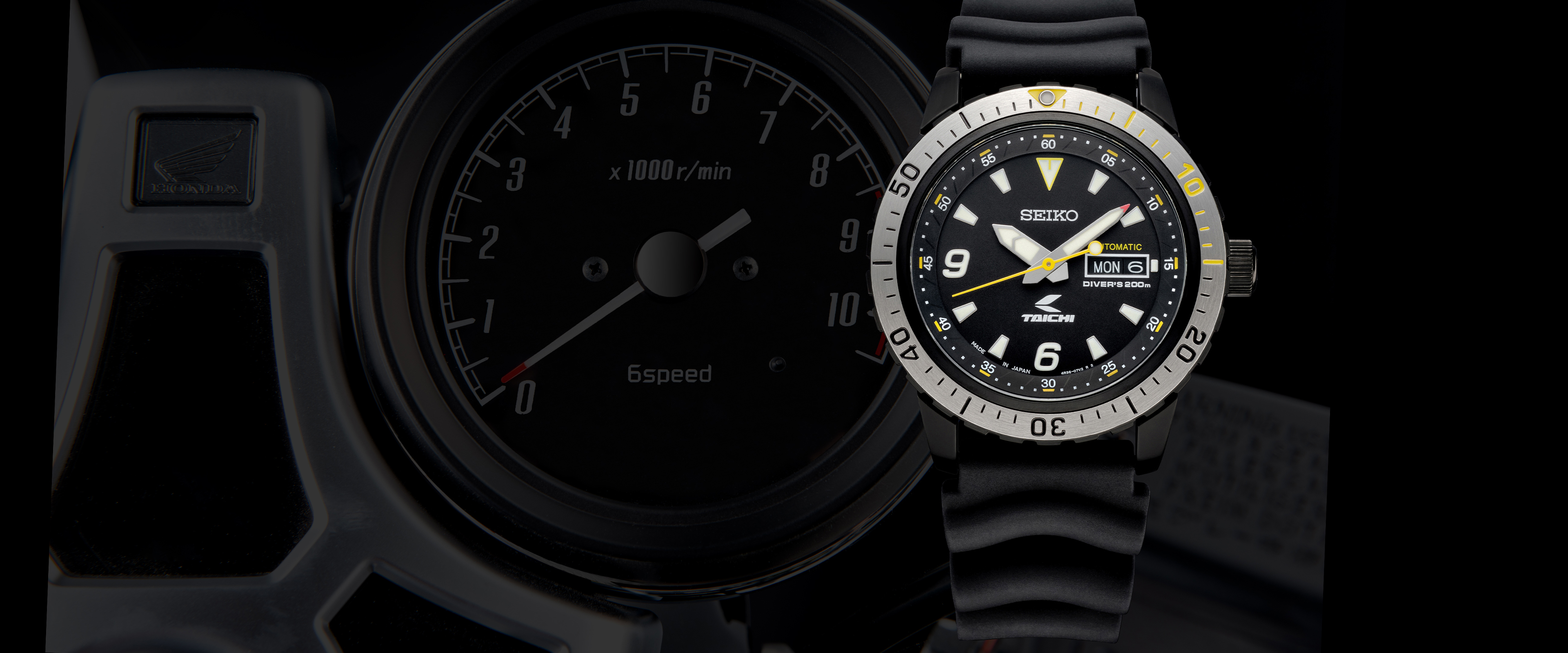 MECHANICAL DIVER'S WATCH
TAICHI JAPAN LIMITED EDITION
A collaboration mechanical diver's watch from TAICHI and world-renowned Japanese watch maker Seiko will be available starting Sunday, March 1, 2020. This watch features a sporty clock face mixing the styles of a motorcycle gear brand and a diver's watch. The combination of a weighty black case and comfortable silicone band makes for a sharp and masculine appearance while providing casual usability. TAICHI LIMITED EDITION and a serial number are laser-etched on the back cover, providing the finishing touch to this truly premium watch.
PRODUCT DETAILS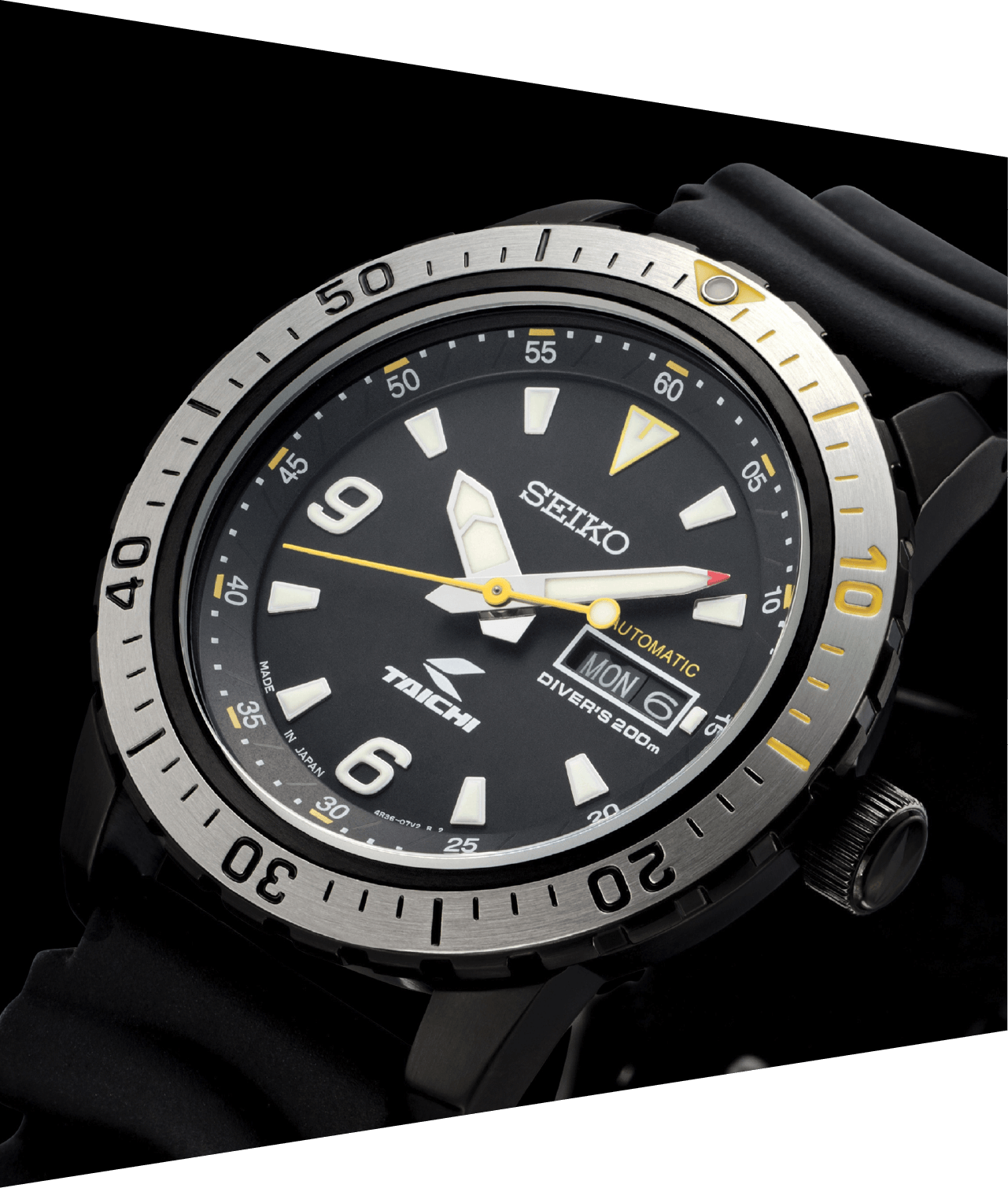 DETAILS.01
A mechanical diver's watch that won't lose its quintessential value over time
The design gives a speedy impression with motorcycle speedometer and brake disc motifs. The embossed index reveals subtle nuances apparent by changing the angle of light and brings together the overall appearance of the dial.The indexes and hour, minute, and second hands are painted with luminous, fluorescent LumiBrite.The watch band is constructed of silicone for a comfortable fit on your wrist even when you're moving it often, such as adjusting the clutch while driving.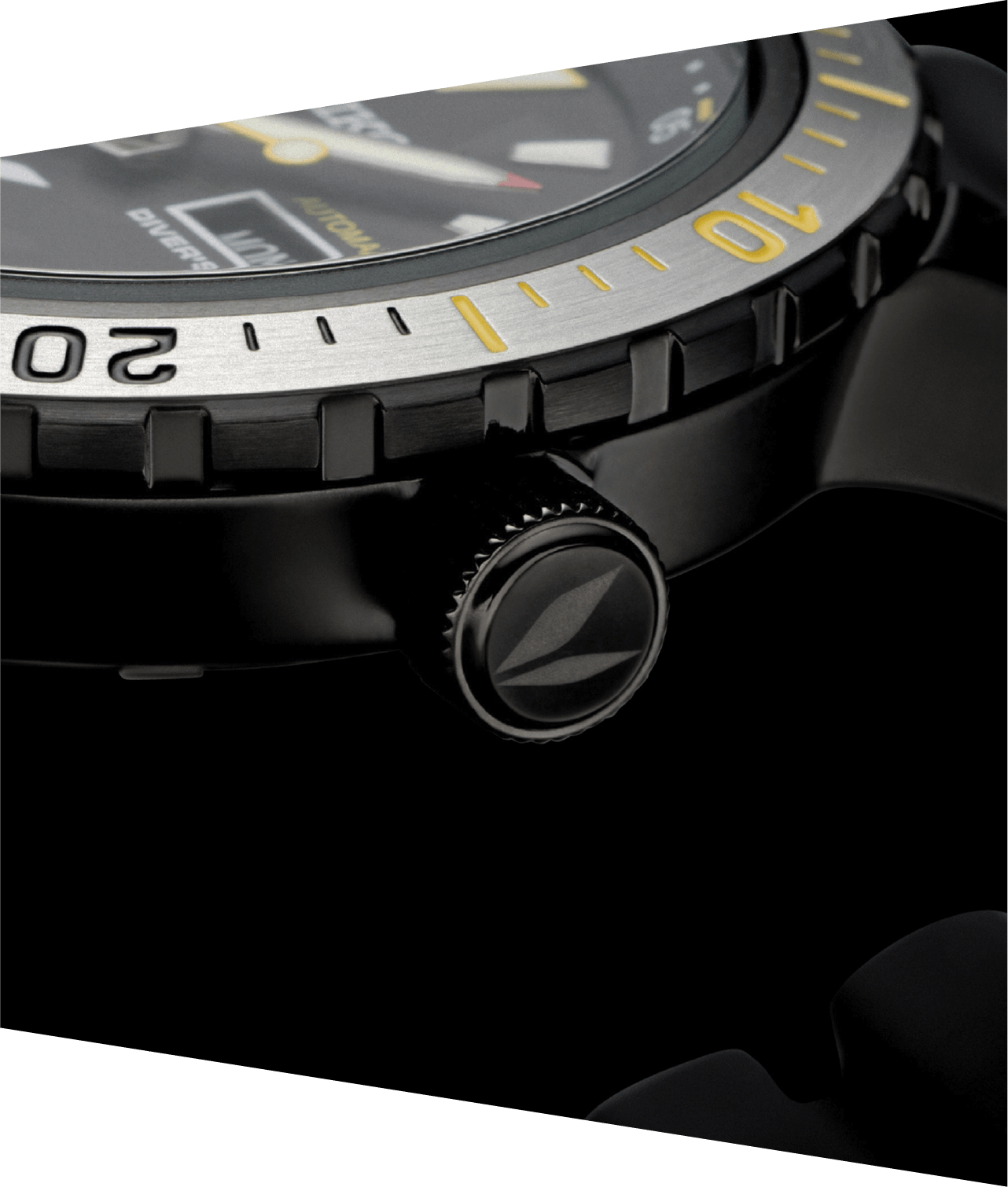 DETAILS.02
Fundamental performance as a diver's watch
With a unidirectional bezel and locking watch crown providing fundamental performance, this diver's watch also includes laser etching on the crown top, and a portion of the case has a black colored hard coating, giving it a dull luster.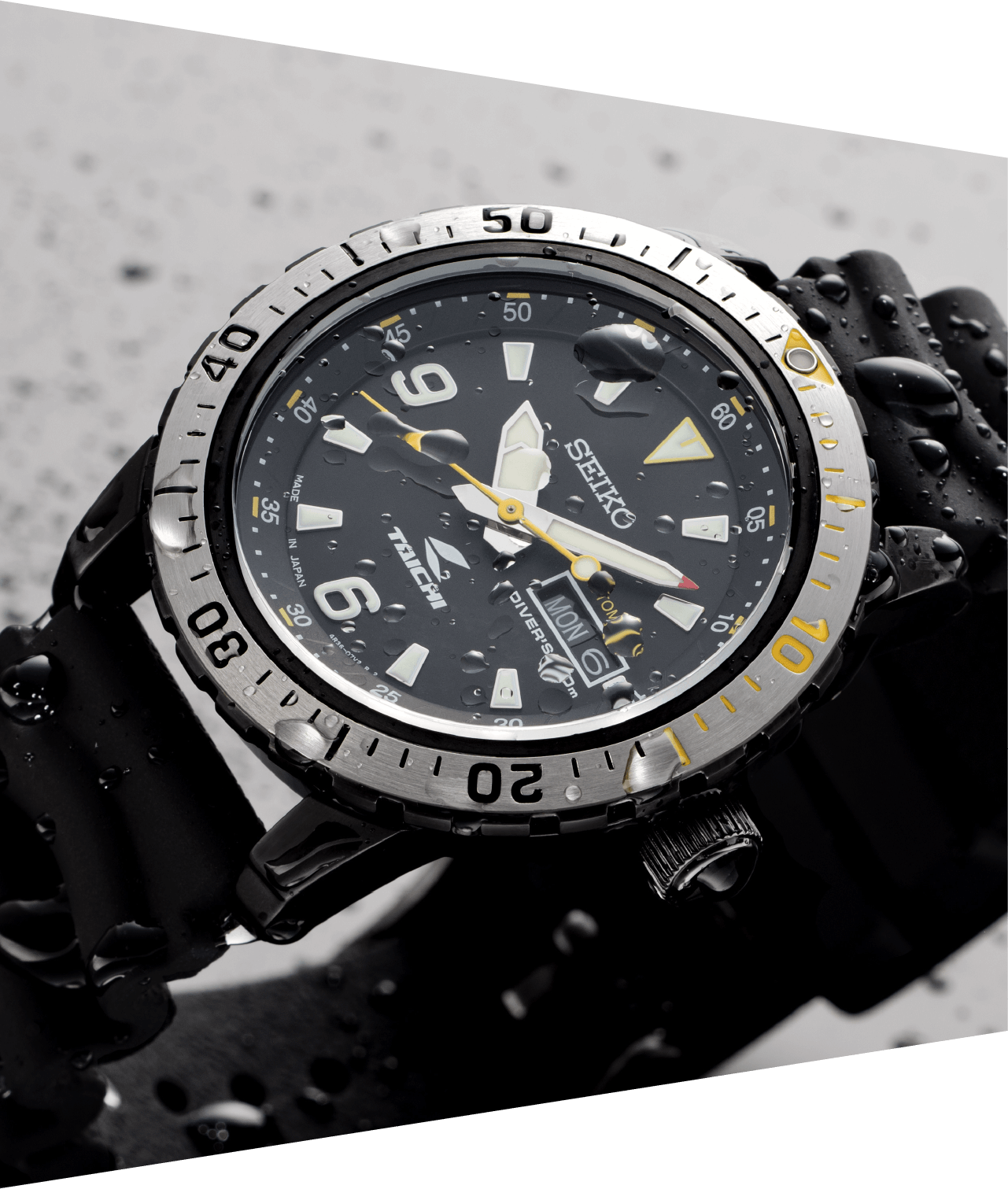 DETAILS.03
Water resistance to depths of 200m
The Seiko diver's watch was developed in 1965 as the first domestic diver's watch and has become the model watch for ISO (International Organization for Standardization) and JIS (Japanese Industrial Standards).This watch utilizes that superior manufacturing to provide water resistance when diving to depths of 200m.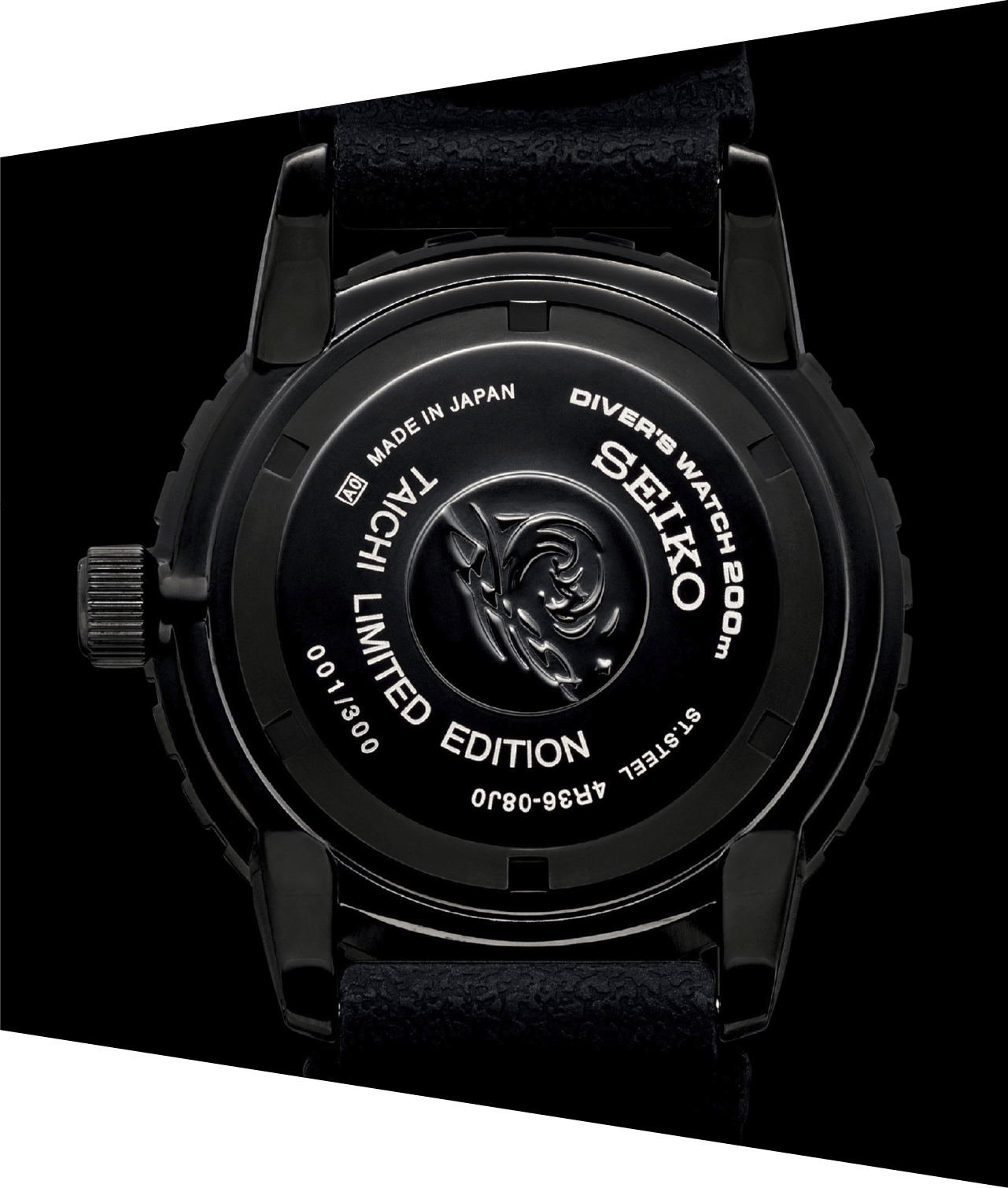 DETAILS.04
300 unit limited run
As certification that the watch is a collaborative product, TAICHI LIMITED EDITION and a serial number identifying the unit as one of a 300 unit limited run are marked on the watch's back cover.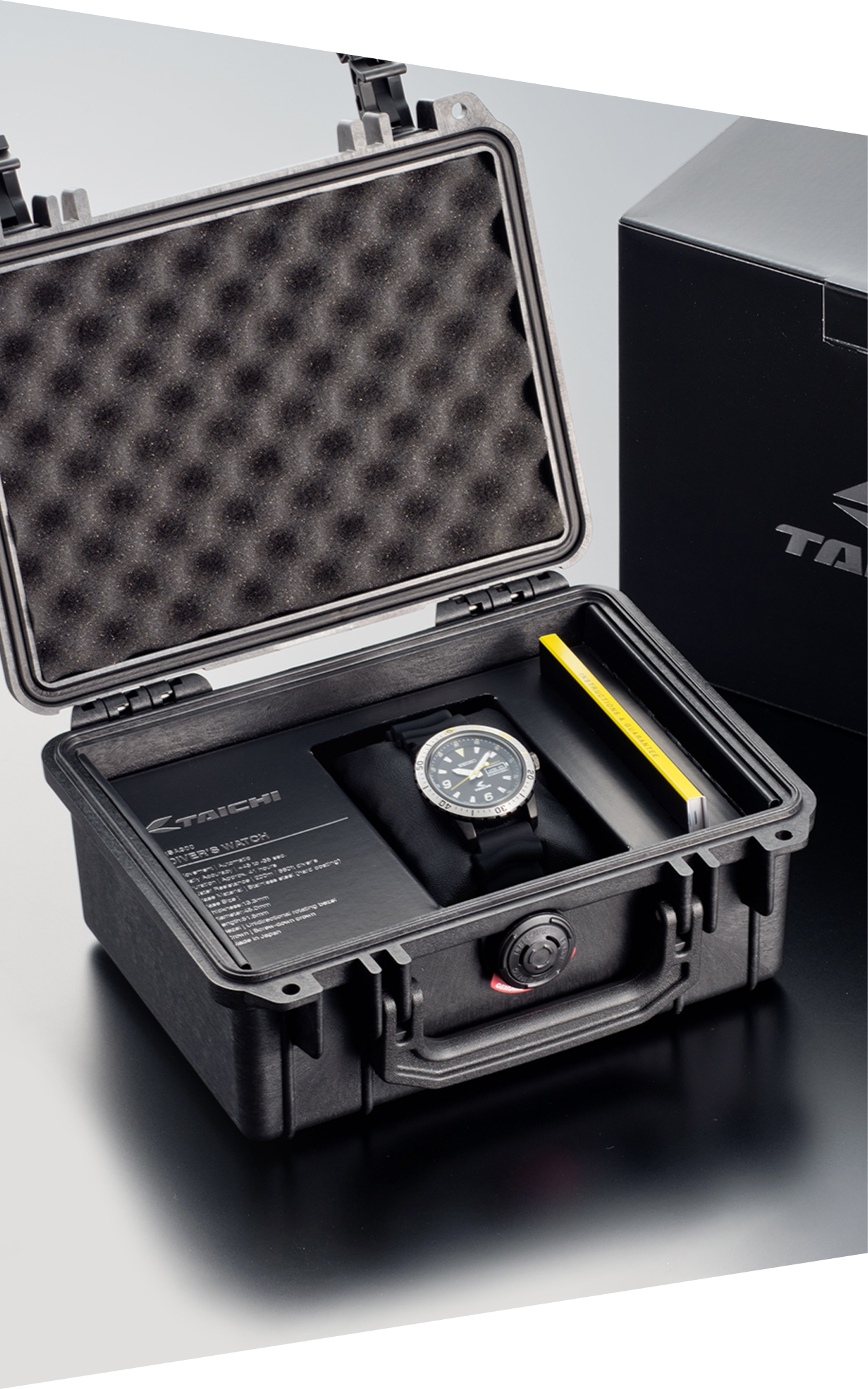 ORIGINAL PELICAN CASE
Custom-made model of PELICAN's RSA300 DIVER'S WATCH hard case.
Pelican creates a range of high-performance hard cases for professionals. Their products are highly esteemed for their thorough water resistance, dust resistance, durability, shock resistance, and weather-proofing. Military, police, rescue, medical, and firefighting teams from countries around the globe make use of their cases.This case is constructed with copolymer polypropylene and is made stronger yet lighter by creating air bubbles in the resin segments.The case is designed with signature Pelican Case ribbing which provides protection from exterior impacts.
Interior Size: 21.1 x 14.7 x 9.5 cm
Pick N Pluck™ with convoluted lid foam
Watertight (o-ring), crushproof, and dustproof
Open cell core with solid wall design – strong, lightweight
Automatic Pressure Equalization Valve – balances interior pressure, keeps water out
LINEUP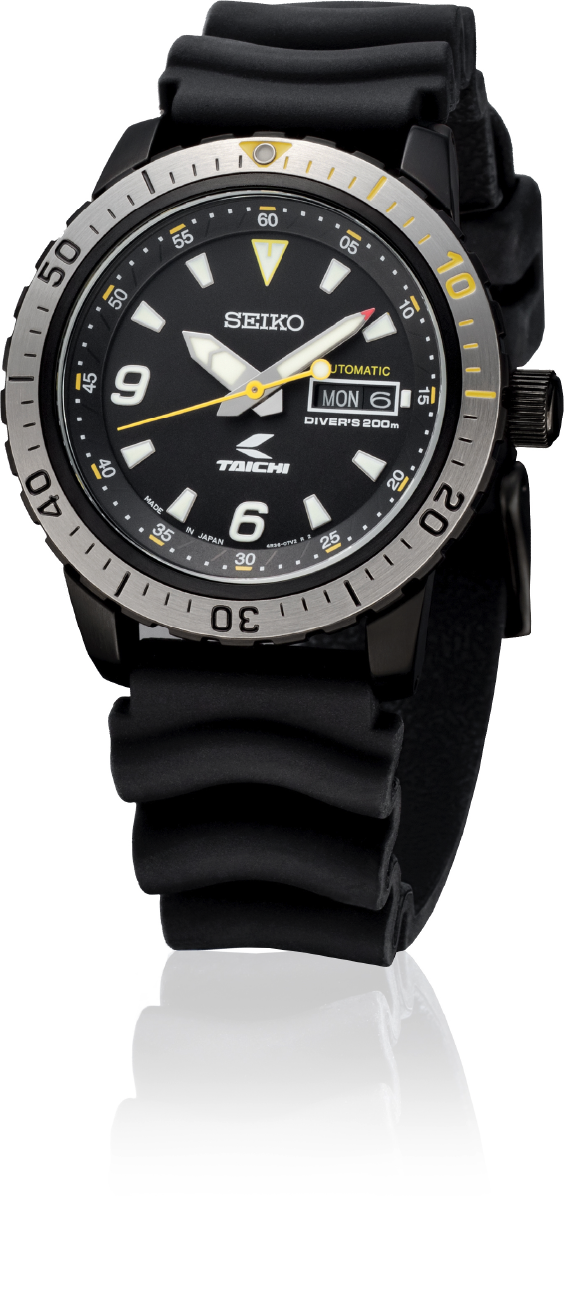 RSA300 DIVER'S WATCH
JAPAN LIMITED MODEL

¥80,000 (tax include) / 300 unit limited run

Only available at RS TAICHI official online shop & RS TAICHI OSAKA (company-owned store)
Movement Type: Automatic mechanical with manual winding capacity
Caliber Number: 4R36
Case Material: Stainless steel (with hardened coating for some parts)
Crystal: Hardlex
LumiBrite: LumiBrite on hands and indexes
Duration: Approx. 41 hours
Accuracy: +45/-35 seconds per day
Band Material: Silicone
Band Width: 22mm
Case Size (Length x Diameter x Thickness): 51.5 x 45.0 x 13.3mm
Weight: Approx. 120g
Calendar: Date, day of week
Water Resistance: 200m for diving
Magnetic Resistance: Magnetic resistant watch (JIS1 type)
Case: Pelican 1150 case (Length x Diameter x Thickness): 240 x 198 x 109mm
SOLD OUT