TAICHI | Hafizh Syahrin
SINCE 2009
AS A PARTNER
FOR
10

YEARS

TAICHI and Hafizh have been working together as partners for 10 years.
Hafizh recently had the opportunity to visit Headquarters.
date October 15
WELCOME TO TAICHI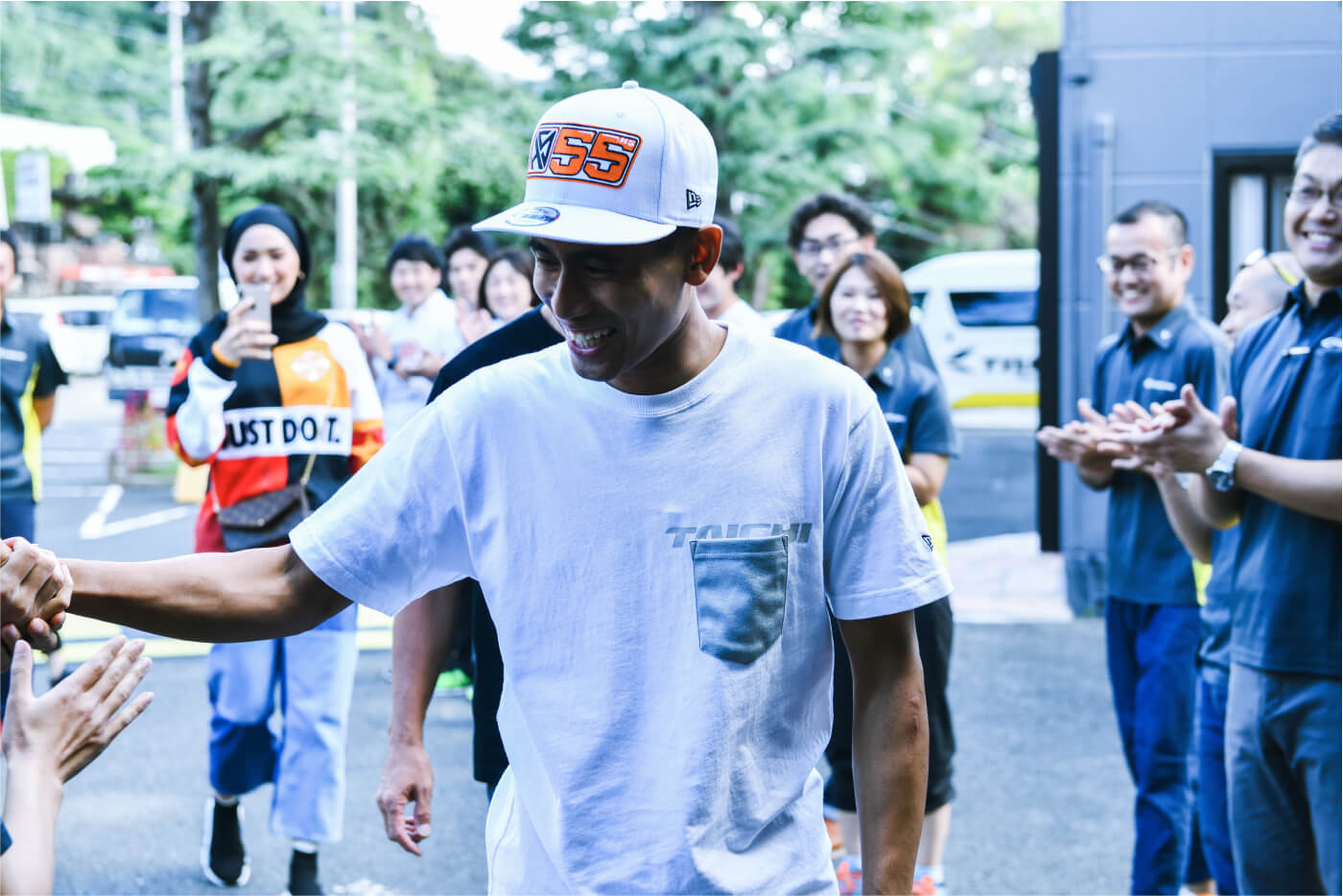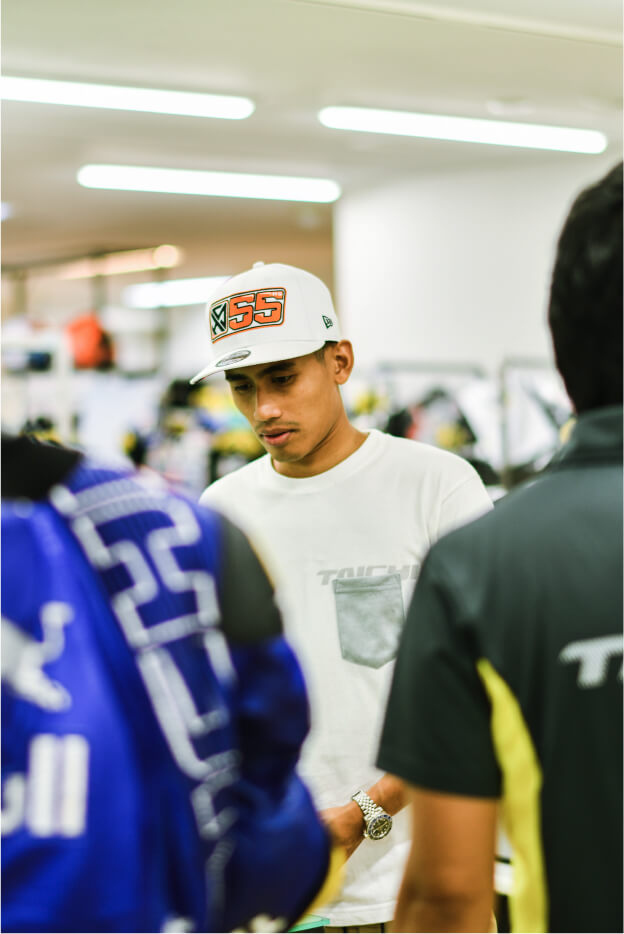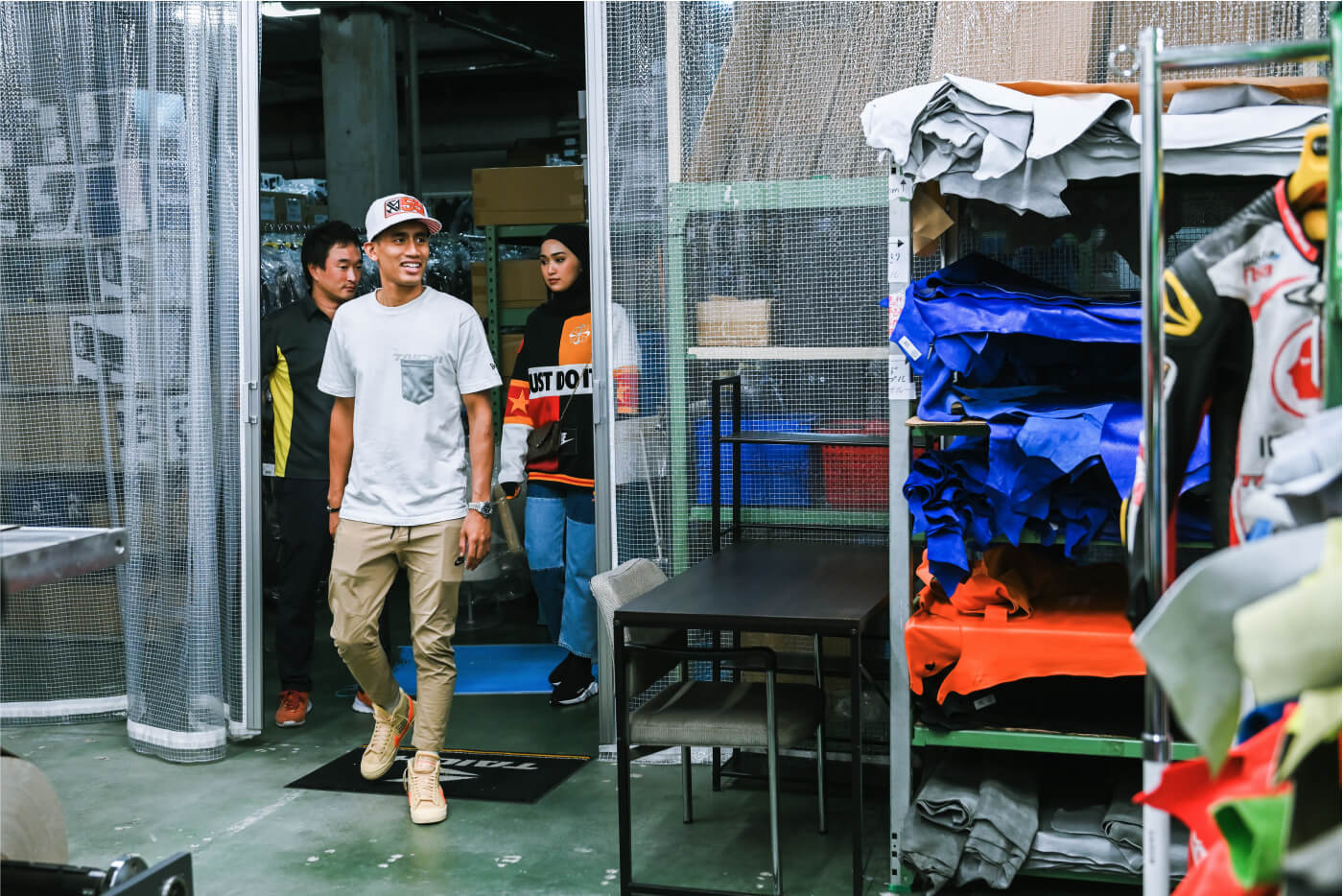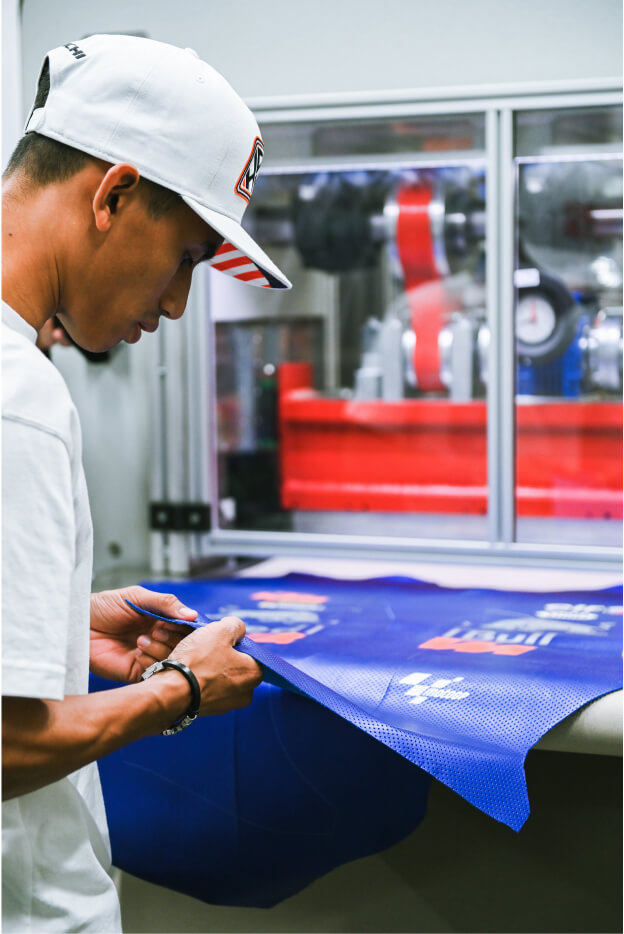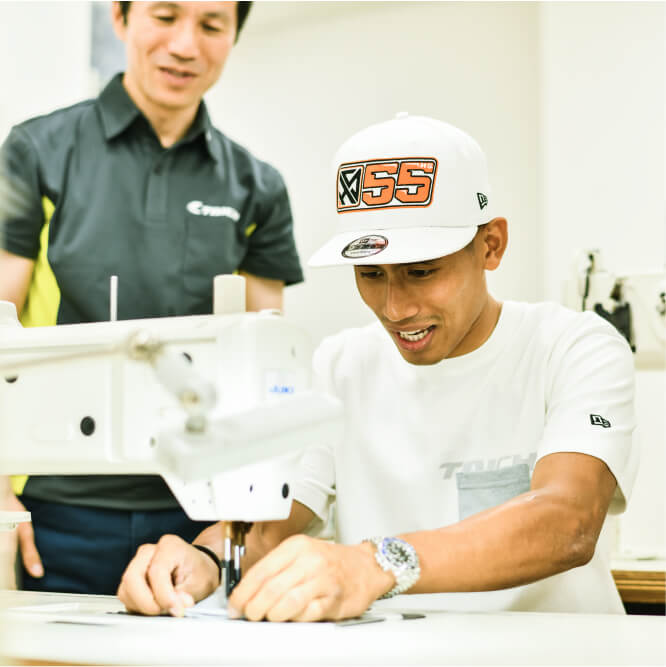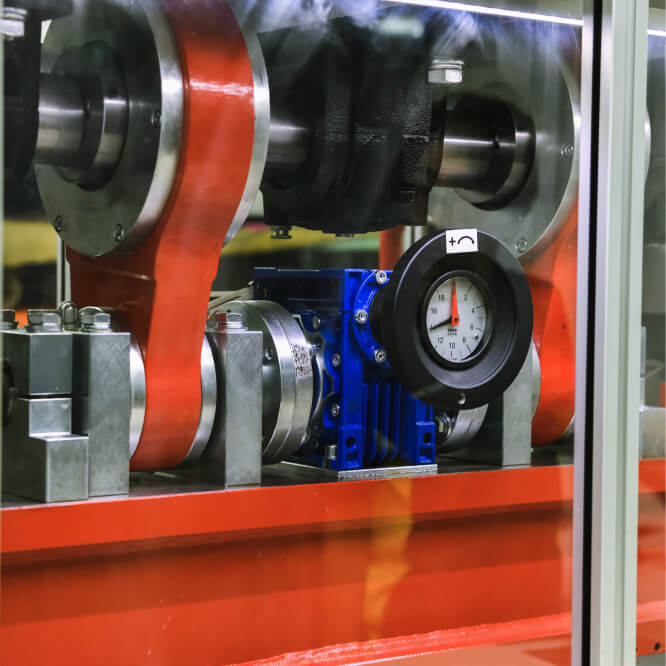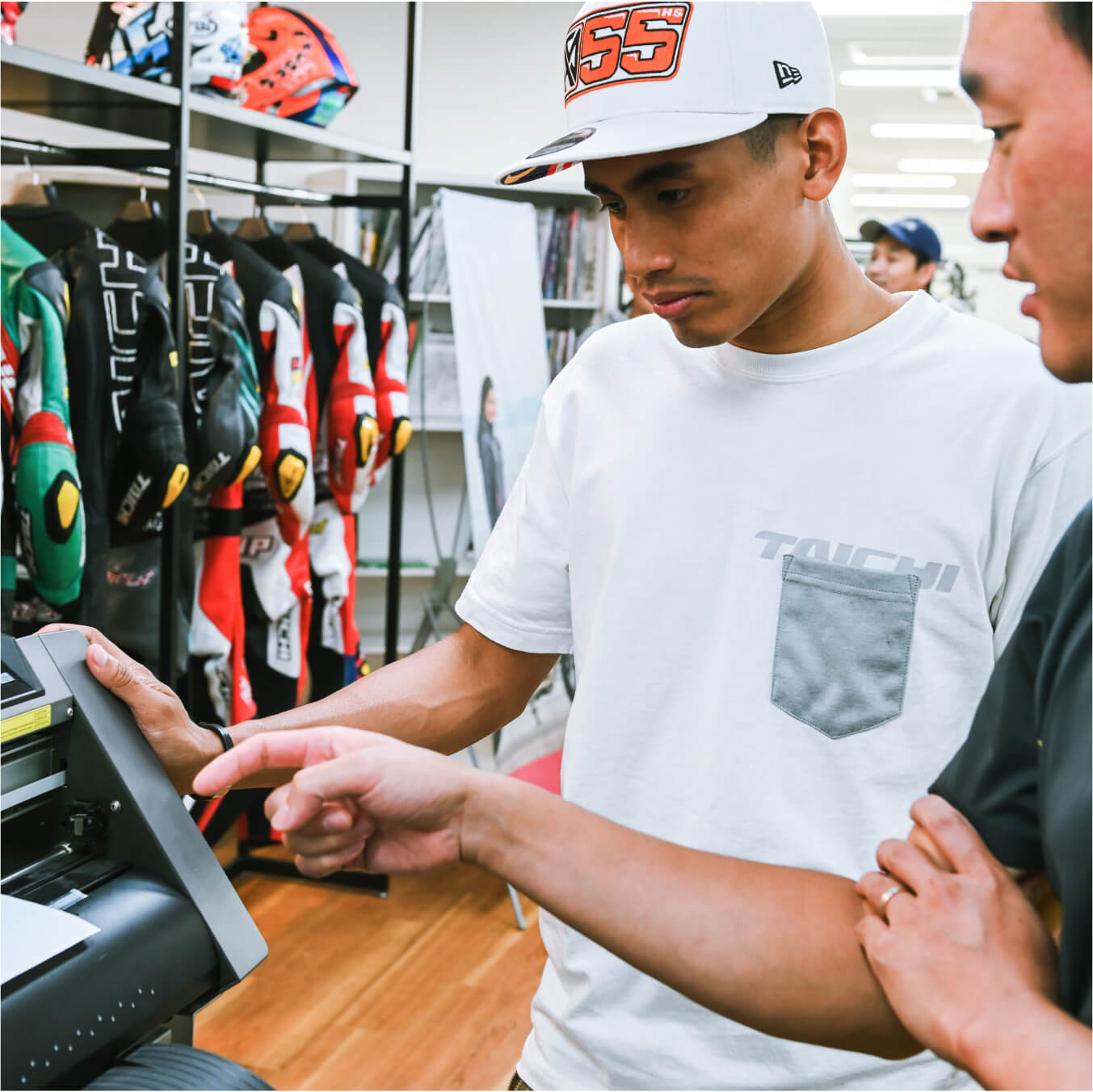 TAICHI and Hafizh
CROSS TALK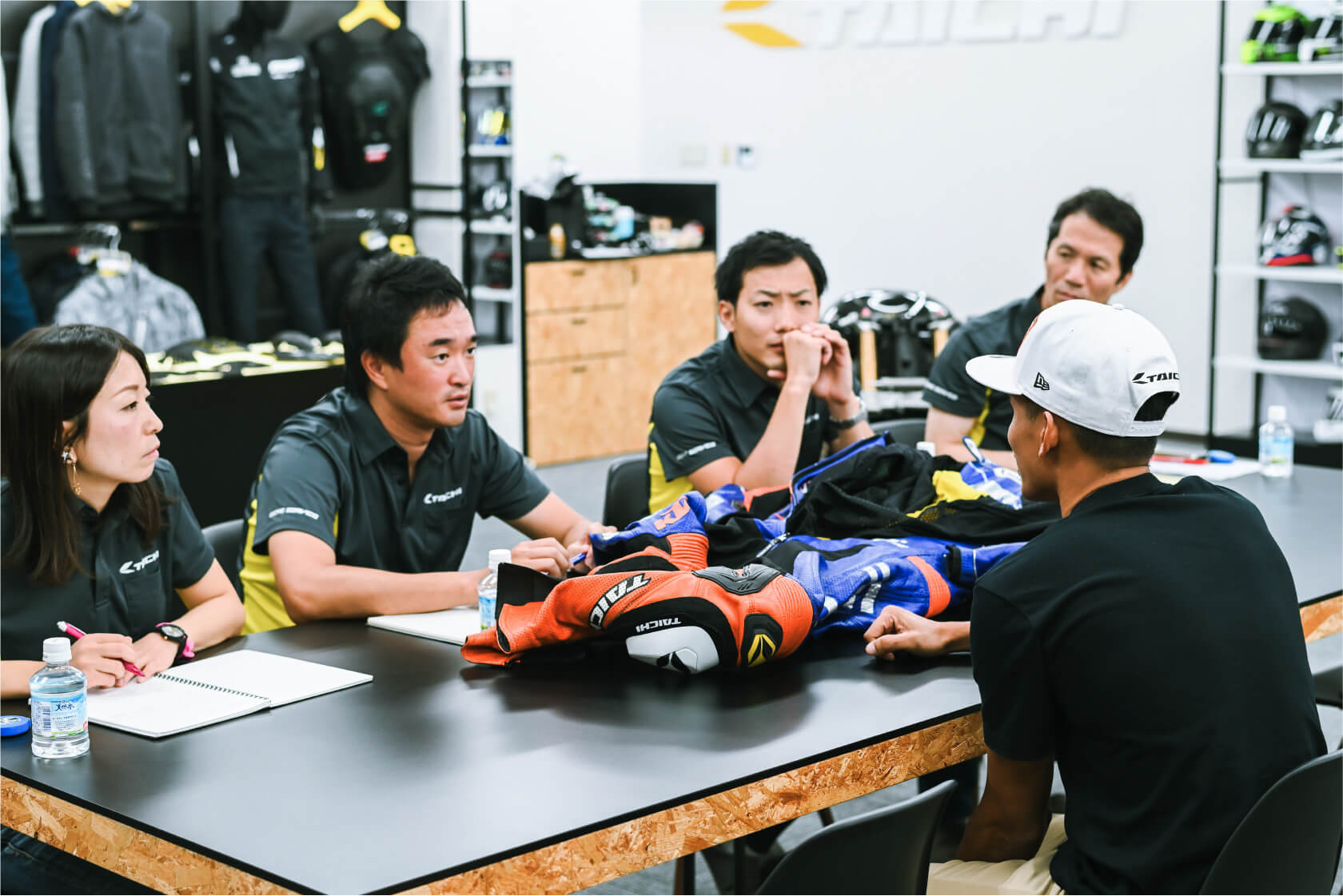 CROSS TALK01
It's the first time to come to Osaka and visit RS Taichi.
How is your experience so far?
First, for me, experience is amazing. I didn't realize that Osaka City is like maybe similar like Tokyo, maybe better than Tokyo. And I will come again here, because it's very short for me to visit RS Taichi and also to visit Osaka. But I appreciate the trip and to came here. And I'm very happy to be part of RS Taichi and come and visit the shop and… very huge. And for me it's a nice experience.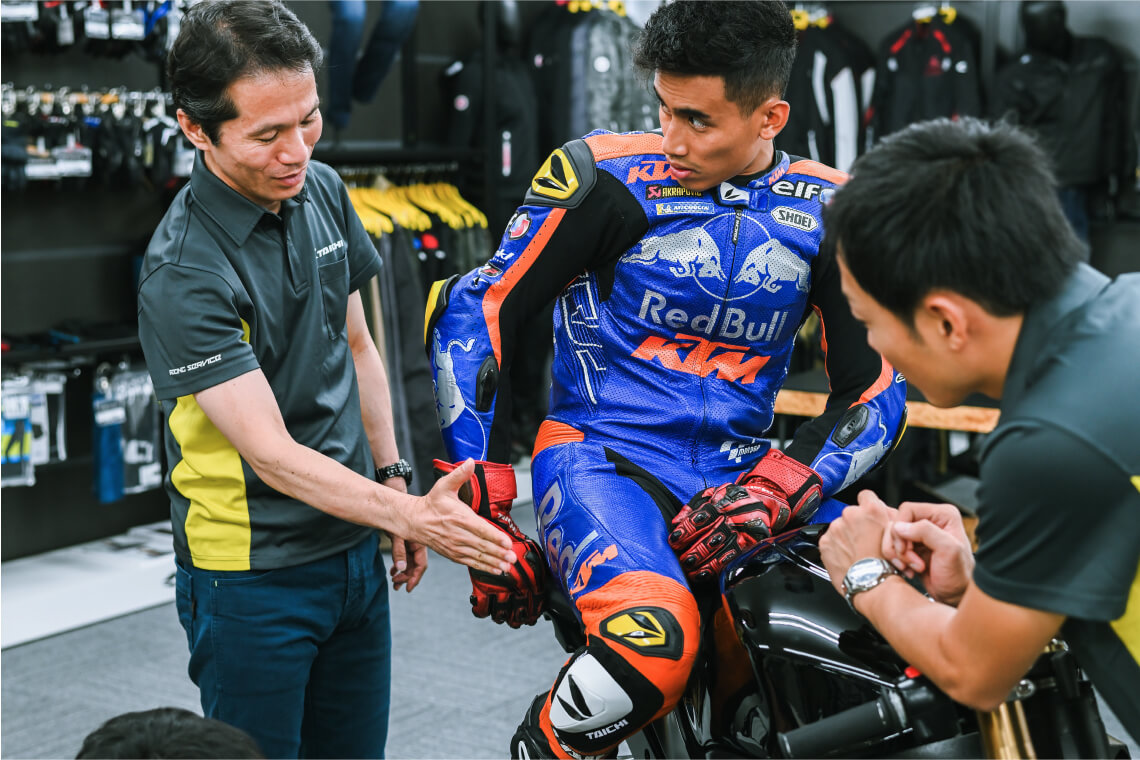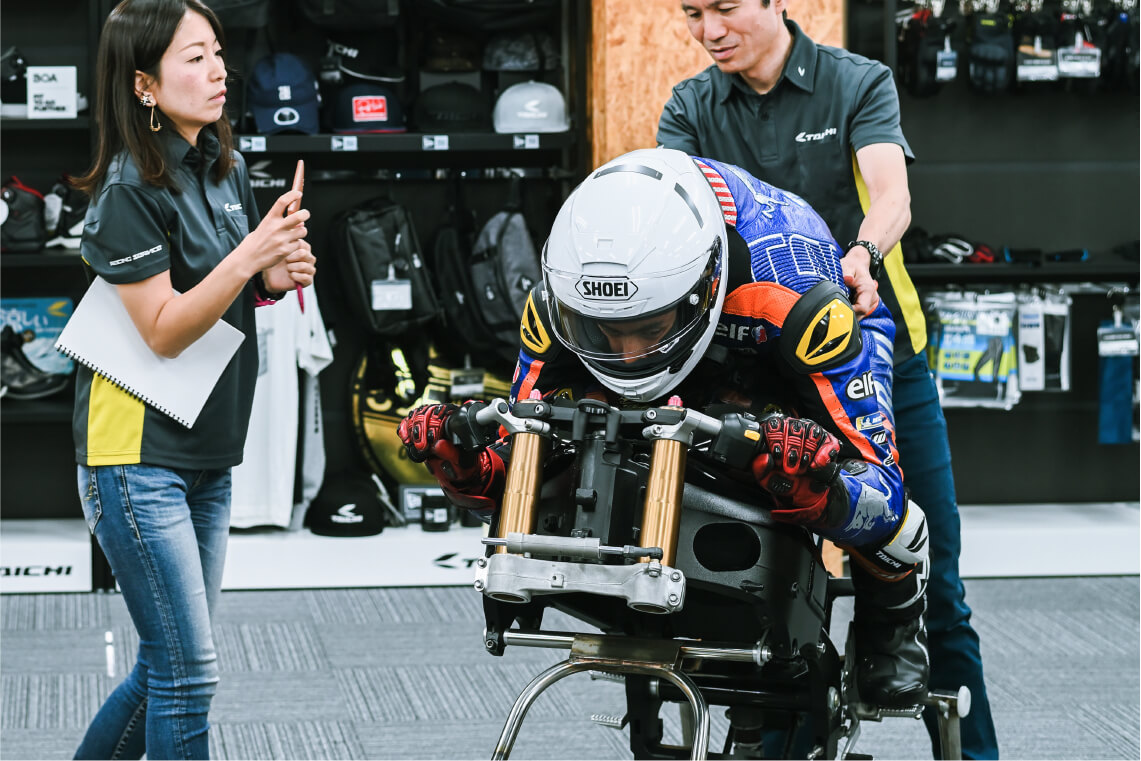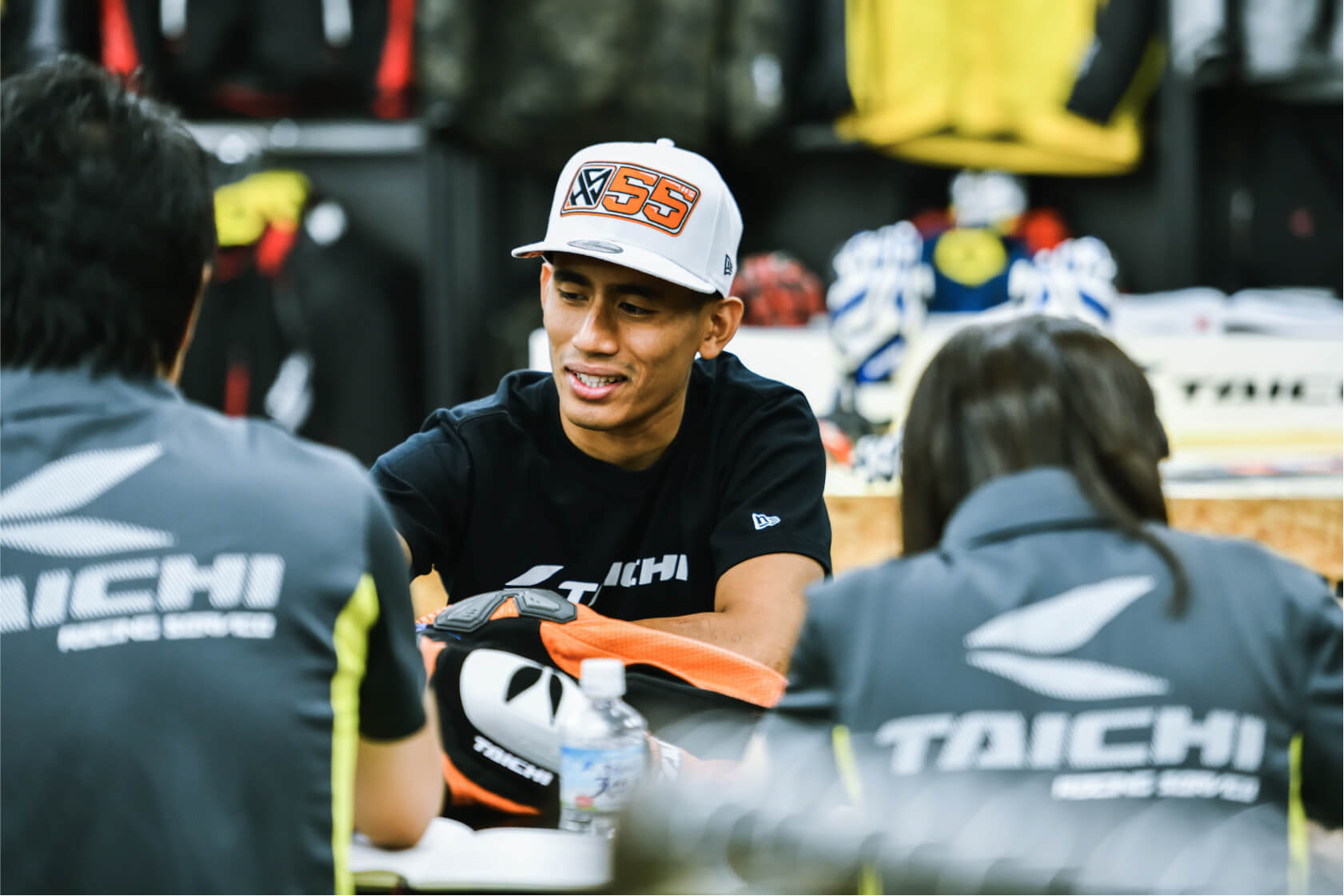 CROSS TALK02
Hafizh's view of TAICHI products.
Since I start with RS Taichi until now we make a huge improvement on the suit, especially of the material and also the shape of the suit looks much better. And also we make the suit not only make myself to be competitive on the World Championship, and also we make the suit to be competitive , to be on the same level of the rest of the suit that mostly, more name in the World Championship, you know? So, I'm the one that use Taichi in MotoGP class.  I know maybe few, past few years ago Aliex Espargaro use RS Taichi  and I think it's Kevin Schwantz. And so this make me proud to be part of RS Taichi because of not many rider to use this. But we bring back the RS Taichi to World Championships so we make a big improvement year by year. So, this is like a part of family, you know? We try to improve together and try to help each other. And RS Taichi is the best for me. It's safe and also comfortable to use and it's not really stiff, the suit. When first I use directly for race, the new suit make me feel the suit is like wear a normal shirt, you know? So no need to warm up the suit to be soft, so this make me better on a bike. So that's why I prefer to choose the RS Taichi since I when racing 2010 until now.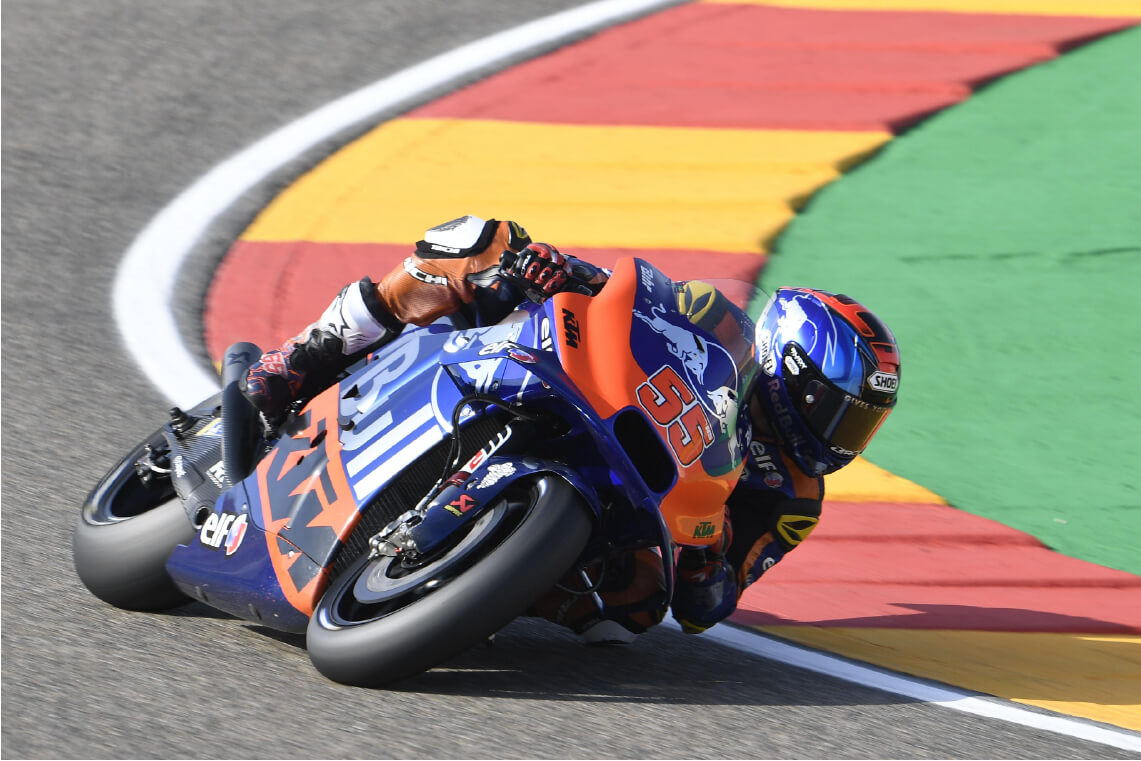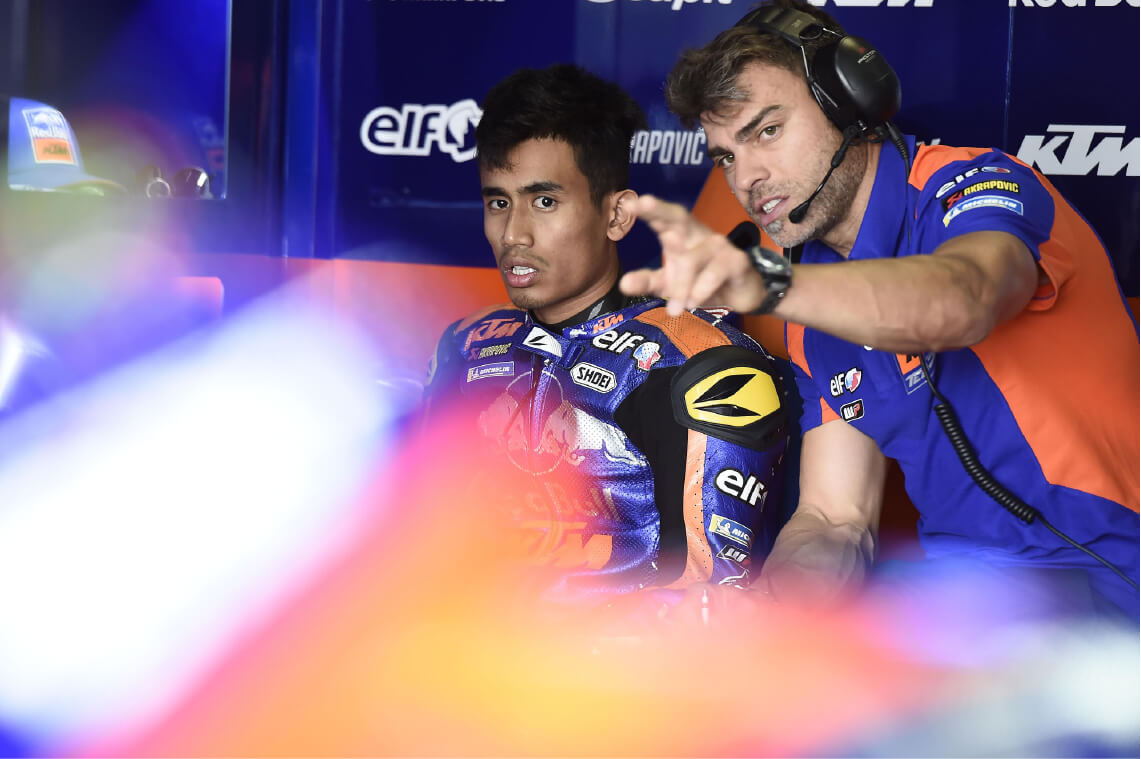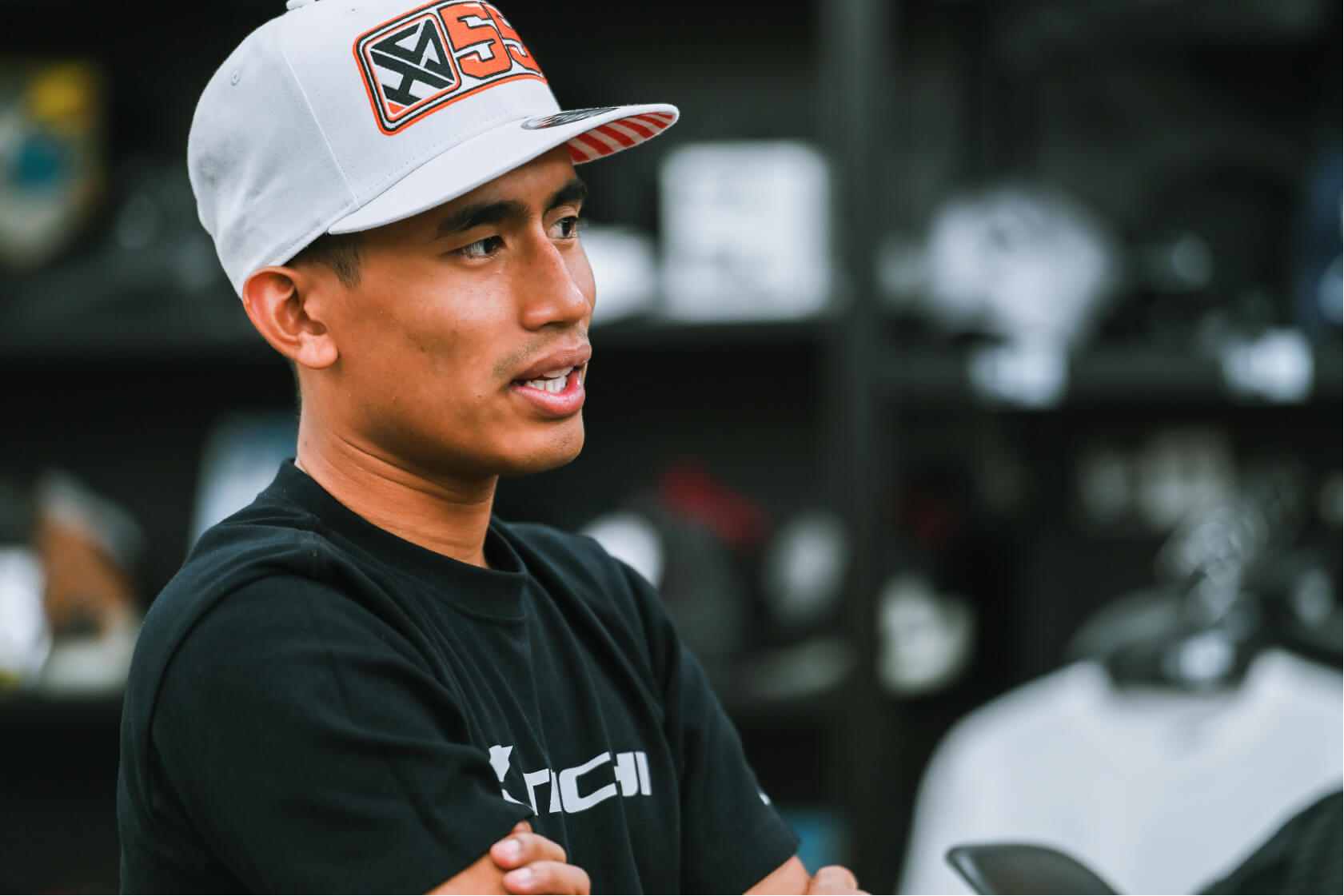 CROSS TALK03
Reviewing the race.
Comment for the fans is always I appreciate a lot because they support me whatever I do and whatever the result that I have.  I know this will be a tough for me and a bit struggle for me and I couldn't improve than last year. A result then when I first time in the MotoGP class.  But I believe on myself because if we have a best maybe we have a best feeling with the bike, for sure we can do something, but at the moment we are have a struggle quite a lot. For me, I just keep working on myself, training hard, and try to focus and try to keep the motivation highest. Try to survive and try to continue in this way working. We will arrive in one day but it's not now, maybe soon or maybe takes… we didn't know. We believe the opportunity will arrive soon but I'm not sure when. But just keep pushing, will be arrive in yourself.
THANK YOU FOR READING
MotoGP Rider
Hafizh Syahrin Abdullah
Team – Red Bull KTM Tech 3 Racing
Bike – KTM RC16
Birthplace – Ampang
Date of birth – 05 / May / 1994
Weight – 66 kg
Height – 180 cm